Posted on
Mon, Mar 18, 2013 : 4:33 a.m.
Pan-Fried Red Snapper with Fried Ginger is a low-labor dish with marvelous flavor
By Peggy Lampman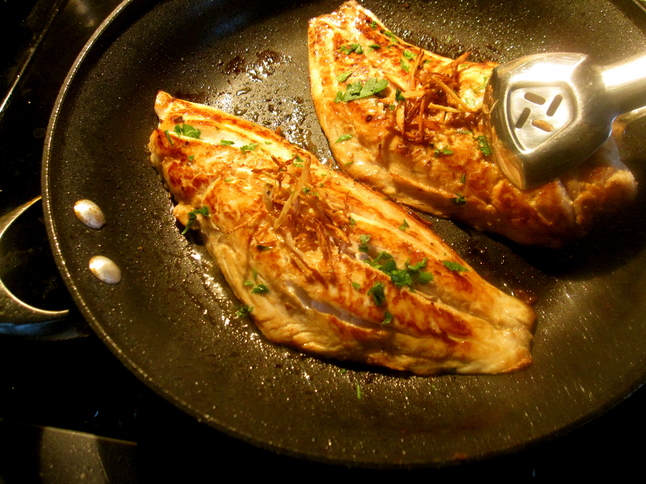 Peggy Lampman | Contributor

My dinnerFeed web site is a lean, mean fighting machine! To receive my lastest dinnerFeed posts by email, sign up here.
I purchased two beautiful snapper fillets with intentions to use them in an Asian-inspired dinner that could be made in a snap.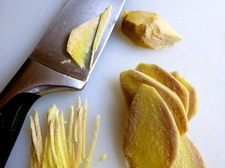 A knob of fresh ginger worked double-duty in the following recipe; I peeled the ginger, julienned it (see picture), then macerated the ginger in rice wine vinegar. After a couple of hours, the vinegar began taking on the perfume of the ginger, which I used in a marinade. After removing the ginger from the vinegar, I fried it until crispy in peanut oil and used it to top the finished salmon.
Asian flavors are marvelous with snapper and the following method is a low-labor, max-flavor recipe. If time does not allow for maceration, just skip the step - you'll still have a delicious dish.
Yield: 2 large snapper fillets (serves 2-4)
Macerate Time: 2-24 hours
Ingredients
1 knob fresh ginger, peeled then sliced into thin julienne (matchstick) strips
1/4 cup rice wine vinegar
3 tablespoons low-sodium soy sauce
2 snapper fillets

2 tablespoons peanut oil 1 teaspoon minced garlic
Chopped parsley for garnish, optional
Directions
1. If time allows, macerate (soak) julienned ginger in rice wine vinegar at least 2 hours and up to 24 hours.
2. Remove ginger from vinegar, pat dry, and reserve. Combine vinegar and soy sauce and let fish flesh marinate in mixture, at room temperature, 30-40 minutes.
3. While fish is marinating, in a large skillet, heat oil over medium high heat. Fry julienned ginger, stirring, until golden brown and crispy. Remove from pan and reserve. 4. In same pan, place fish fillets, flesh side down, and fry until nicely browned, about 4 minutes; alternate the heat between medium and medium high heat so the fillets sizzle but don't burn.
5. Turn fillets over and brush flesh side with garlic, and continue cooking 3 to 4 minutes or until flesh is white. Garnish with fried ginger and parsley, if using, and serve.
Peggy Lampman is a real-time food writer and photographer posting daily feeds on her website and in the Food & Grocery section of Annarbor.com. You may also e-mail her at peggy@dinnerfeed.com.