Posted on
Sun, Sep 19, 2010 : 8:36 p.m.
Wildcrafting: Autumn olive berries are rich in nutrients, color, and flavor
By Linda Diane Feldt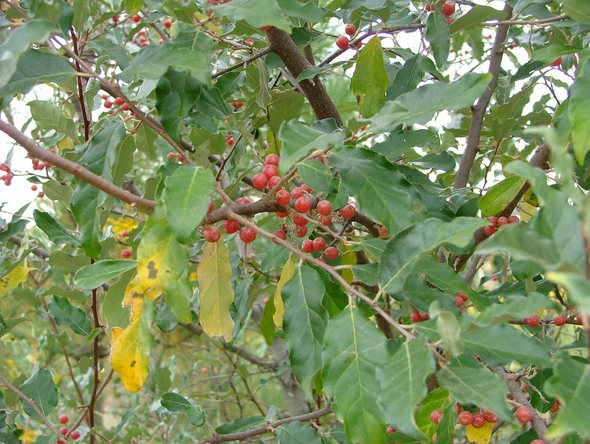 Wild foods are seldom studied or promoted for nutritional and medicinal value. In our profit driven culture, if there isn't a payoff, great herbs and weeds are passed over for the ones that give dramatic results, or that can be patented or trademarked in special formulas. A simple abundant fruit, such as autumn olive Elaeagnus umbellata berries just don't have much chance for fame. Not only is the fruit abundant and easy to find, the tree is an invasive species that is being actively removed from our landscape.
So it is actually impressive that we know so much about the benefits of the autumn olive berry. The USDA Website claims that the analysis of autumn olive was a chance discovery. A horticulturist with the USDA Research Service tried them for personal use, and noted the red pigment. A colleague did the analysis on what sounds like a combination of observation, a guess and a whim.
"ARS nutritionist Beverly A. Clevidence learned about the pigment, she offered to analyze the berries for carotenoids, especially lycopene—the pigment that colors tomatoes red. "We were astounded at what we found," says Fordham, who is with the ARS Fruit Laboratory in Beltsville, Maryland. Ounce for ounce, the typical autumn olive berry is up to 17 times higher in lycopene than the typical raw tomato. Lycopene has generated widespread interest as a possible deterrent to heart disease and cancers of the prostate, cervix, and gastrointestinal tract, says Clevidence, who heads ARS' Phytonutrients Laboratory in Beltsville. This health-giving pigment is also found in watermelon, pink grapefruit, and guava. But 80 to 90 percent of the U.S. intake comes from tomatoes and tomato products. "
A website covering research for prostate cancer notes "The berries also contain high levels of vitamins A, C and E, and flavonoids and essential fatty acids."
Now also being called Autumnberry, this is a nutrient-rich plant, with components known to help prevent cancer and heart disease. And yet we persist in importing the exotic and expensive fruit drinks and pills that are heavily advertised and commercialized, often by multi-level marketing. Consumers are used to spending money on what is promoted, while this free and abundant treasure goes almost unnoticed.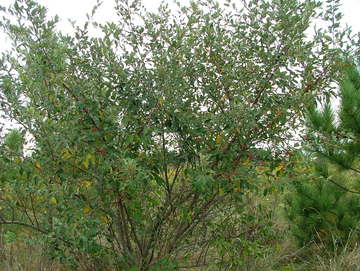 Linda Diane Feldt | Contributor
The berries are ripe now. The fields are full of this (mostly) escaped silvery leaved shrub. You can use this federal website for a full description. In this area, "Autumn-olive is a many-branched, deciduous shrub or shrubby tree, growing 10 to16 feet (3-5 meters) tall." The longer leaves and red fruit with tiny speckles, are easy to spot. Honeysuckle leaves are much more green and soft; be sure not to confuse the berries as most honeysuckle berries are toxic.
The berries will persist through the winter, although you will have stiff competition from a whole variety of birds and hungry animals.
What can you do with the fruit? It is a little sour, with some trees being sweeter than others, and it does sweeten as it matures. Eat it out of hand, keep in mind that each seed in the berry can grow a whole new invasive plant. Removing the seeds from production is a service. The fruit freezes well, although it is a bit mushier when thawed. Autumn olive makes great jam or fruit leather, and the pulp can be added to desserts and baked goods for a nutritional - and colorful - boost.
There is great value in many of the wild (and escaped) plants around us. If we rely on marketers to point out what is of value, we'll miss much of the natural world and its intrinsic benefits. Here is a plant that is both a treasure and a bane. Certainly a partial solution is to eat as many berries as possible, don't replant it, and let it help you to be healthier.
Linda Diane Feldt is a local Holistic Health Practitioner, teacher, writer, and blogger. You can follow her on twitter, visit her website, or contact her directly ldfeldt(at)holisticwisdom.org
Upcoming classes include a FREE introduction to medicinal plants and foraging this Thursday from 7-9:30 p.m. at Crazy Wisdom Bookstore, sponsored by The People's Food Co-op. Pre-registration is suggested, but not required. Linda Diane will also be doing a "Weed Walk" Sunday from 1-3 p.m. Register with her before Wednesday;' there is a small fee for that class.