Wildcrafting: the acorns are early, start saving up for winter now
Posted on Tue, Aug 17, 2010 : 9:40 a.m.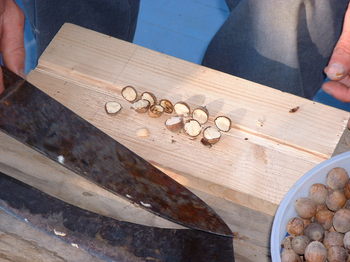 Linda Diane Feldt | Contributor

Seeing fallen acorns this week was startling, I was still in mid-summer mode with the heat and the humidity. The appearance of acorns is a clear indicator that fall is coming. If we were living in this area just a few hundred years ago, the acorns would be a prime food to store and enjoy when the cold and snow arrive. Now, people hardly recognize them as food.




On thing is that my dog likes acorns, and will eat the meat inside - even without rinsing them. If I leave a bag of gathered acorns within reach, she'll dump them and eat a few.

I also found that the acorns from white oaks have less tannin, so they're easier to rinse with plain tap water just a few times. It is the red and black oaks that need more extensive rinsing, and are better candidates for using a toilet tank. You'll have to read last year's article to understand.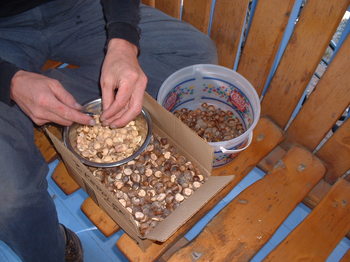 Linda Diane Feldt | Contributor
I also learned that it is better to process them now, rather than later. Acorns lose taste and are harder to work with if stored whole. My preference now is to do the work soon after collecting, make the flour and freeze it. It has more aroma and taste that way.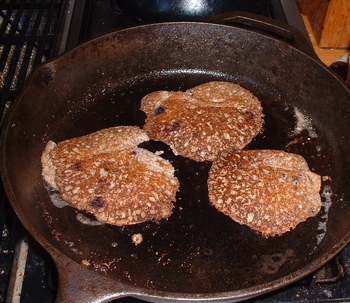 Linda Diane Feldt | Contributor
My favorite use is pancakes. Last year, my foraging friend and I also gleaned buckwheat and hulled that and ground it for flour. I wrote about this meal before, but I will repeat myself and remember that special breakfast of pancakes made from local acorn flour, the gleaned buckwheat made into flour, local eggs and milk, homemade butter and homemade maple syrup, with black raspberries as well, also picked nearby and frozen.
I hope you can enjoy a breakfast that special sometime soon.
Linda Diane Feldt is a Holistic Health Practitioner, teacher, and writer. You can follow her on twitter, find her website, or contact her directly ldfeldt (at) holistic wisdom.org
Her free class on herbal wisdom will begin again in September, beginning the 18th year of the series, sponsored by The People's Food Co-op.