Posted on
Sun, Feb 13, 2011 : 5 p.m.
Winter survival cocktails: The Salty Dog
By Clive Watson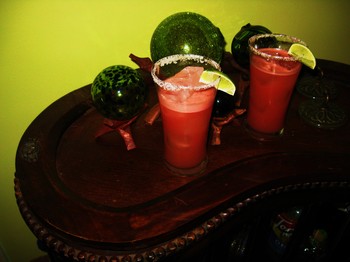 Clive Watson | Contributor
Grapefruit season is here, and just in time. Nothing banishes winter blues better than a bracing round of Salty Dogs. The peak of citrus season arrives almost like an apology for winter — or a coping mechanism, at the very least. Sure, you might rather be sipping Mojitos out on the pontoon, but the bitter cold and the long days indoors make an infusion of fresh, bright citrus all the more urgent. So, without delay, to the refrigerator!
The Salty Dog
2 ounces gin
5 ounces fresh ruby red grapefruit juice
Combine ingredients in a cocktail shaker, shake and pour over new ice in a salt-rimmed glass.
Sure, it's a pretty simple cocktail. None of the ingredients require three day long herbal infusion. You don't need to suspend hibiscus blossoms in aspic, muddle cilantro or vivisect kumquats. Nothing need be marinated, stuffed or strained through cheesecloth. And no known version of this recipe requires that anything be set on fire. (Note to self: come up with a version of this recipe that requires setting things on fire.) But there's a real beauty to simplicity, and that's a beauty this drink has in spades.
Here's how it works: it's a simple contrast of intense flavors. The rich sweetness and bracing tartness of grapefruit juice collides with the lacerating intensity of the salt rim, and the result is some real pyrotechnics of the palate. Give your taste buds a moment to adjust — they may be a bit shell-shocked at first. Eventually, as you savor your cup, the subtle floral notes and aromatics of the gin will work their way through, rounding out the raw power of this concoction with a welcome note of finesse.
A few notes: First of all, and I may be stating the obvious here, but it's absolutely essential that the grapefruit juice be fresh. No matter how carefully it's processed, citrus juice dies tragically when preserved, losing all of its light accents and fresh notes. What remains is a brash metallic acidity that will make you think you've been sucking on a penny. In short, if you let Dole or Tropicana do the sweaty work for you, your Salty Dog will turn up lifeless and lackluster. You'll find yourself morosely choking down a glassful of disappointment, a botched travesty of what could have been.
Having a hard time choosing a gin? Let me recommend Beefeater, a perfectly solid, no-frills, modestly priced London dry which, incidentally happens to be my own personal house brand. If you've been saving a bottle of Gin 209, Hendricks or Plymouth (aka, the best gin in the world), you should keep right on saving it. The explosive interplay of salt and sour in this cocktail will railroad right over the subtle nuances that distinguish these boutique selections from more modestly priced brands. I wouldn't feel bad using Tanqueray or Bombay Classic, for that matter, but save the top shelf stuff for martinis and other short drinks — unless of course you're dining out, in which case paradoxical bar economics may apply.
Can't stand gin? Well, my sympathies are with you, but you're certainly not alone on this one. The good news is that vodka works well in its place, and though the mix becomes a bit less nuanced, it remains a delightful and refreshing concoction.
Clive Watson stirs, shakes, strains, savors and waxes incoherent at triplesequitur.com.