Posted on
Thu, May 31, 2012 : 6:23 a.m.
You're limited only by your creativity and imagination when making sliders at home
By Jessica Webster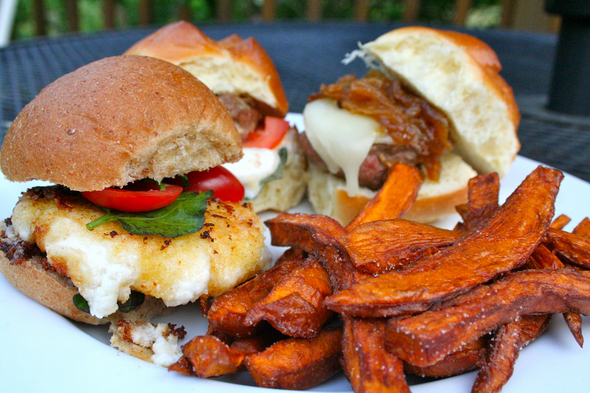 Jessica Webster | AnnArbor.com
"Sliders are the new cupcakes," declared my friend Fran. And she's right. Suddenly sliders are popping up everywhere. Where once they were associated primarily with White Castle runs and hangover cures, sliders can now be found on even high-end menus.
Green Dot Stables in Detroit is almost entirely focused on these tiny-bun sandwiches, with offerings ranging from traditional cheeseburgers and pulled pork to curry chicken and peanut butter-kimchi. Here in Ann Arbor, I'm partial to the sliders at Blue Tractor, Zingerman's Roadhouse and Grizzly Peak.
I've been thinking about replacing hamburgers with sliders when cooking at home. Smaller burgers cook faster, you can experiment with different toppings and you can eat two or more sliders without feeling like a horrible glutton.
Finding good slider buns was more of a challenge than I expected. I finally settled on two options from Trader Joe's: nice squishy whole wheat dinner rolls, and their take on classic Parker House Rolls. Both worked well, but I'm still in search of the perfect soft white slider bun. (Suggestions are always appreciated.)
You can make your sliders with just about any filling. Let your imagination run wild. Think about the flavor combinations you enjoy in dishes you order in favorite restaurants, and replicate them at home as a slider.
If you're making hamburger sliders, a good rule of thumb is to use 2 ounces (or one-eighth of a pound) of ground beef per slider. Make sure you season your beef before cooking it. Everyone has a favorite approach to hamburger seasoning, but I like to stick with the classics: salt and pepper.
This week's slider experiments at the Webster house included a caprese burger with tomato, basil and fresh mozzarella, a patty melt slider with Swiss cheese and caramelized onions, and a fried goat cheese, plum tomato and watercress slider.
The idea for the fried goat cheese sliders came from a post by Deb Perelman on the Smitten Kitchen blog. In Deb's recipe, the fried goat cheese rounds were meant to be a topping for salad, but when I saw them, all I could think was how perfect they would be on a little bun. When paired with bitter greens like watercress or arugula and sweet plum tomatoes, it makes a really lovely, melty, messy treat.
Fried Goat Cheese Rounds for sliders (from SmittenKitchen.com)
Makes 4 fried cheese patties
4 ounces goat milk Gouda, coarsely grated
4 ounces fresh goat cheese, softened
1 tablespoon all-purpose flour
1 large egg
1/4 cup Panko breadcrumbs
1/4 teaspoon coarse or sea salt
Olive oil, for frying
Freshly ground black pepper
Mash together cheeses in a bowl, mixing until combined. Form the mixture into four balls then smoosh each slightly into thick patties. Arrange three small dishes for dredging stations: Place the flour in the first one, beat the egg lightly in the second, and mix the breadcrumbs and salt in the last one. That's the order you'll use them in too. Dip the cheese rounds in the flour first. Shake off the excess flour, then coat the rounds in the beaten egg. The last step is to coat the cheese with the breadcrumb mixture.
Heat a healthy slick of olive oil (2 to 3 tablespoons) in a small skillet over medium heat. Once hot, fry each patty until golden and crispy, about two minutes per side. It's going to get melty and seem pesky to flip once warm. Using two forks made this much easier. Briefly pause the crouton on paper towels to drain excess oil, before placing it on your slider roll, then finish the whole thing with freshly ground black pepper. Repeat with remaining cheese rounds.
Top each cheese round with watercress or arugula and sliced plum tomatoes.
Jessica Webster leads the Food & Grocery section for AnnArbor.com. You can reach her at JessicaWebster@AnnArbor.com.