Posted on
Mon, Apr 23, 2012 : 5:57 a.m.
Ypsilanti's Red Rock Barbecue to have grand opening Friday
By Danny Shaw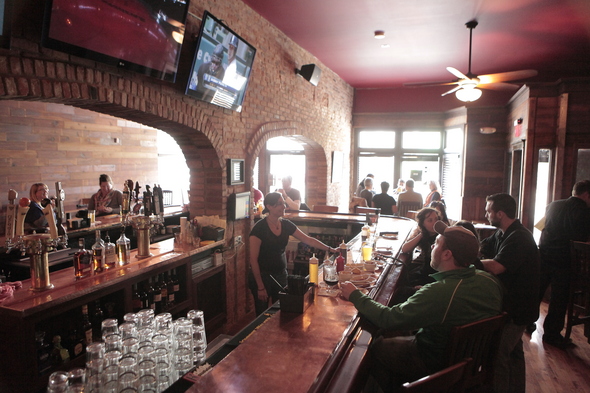 Chris Asadian | AnnArbor.com
After a year and a half of planning and renovations, Ypsilanti's Red Rock Downtown Barbecue will have its grand opening April 27.
"This has been an idea for five years now, so it's great to be at this point," co-owner Shawn Cool said. "We worked literally for a year and a half straight, every day. It's a relief."
The new restaurant is located at 207-209 W. Michigan Ave., in the former T.C.'s Speakeasy space. Red Rock has hosted several preview weekends at which customers could check out the food and drink menus.
Cool said the business had a soft open on April 20, and the restaurant is operating on its permanent business hours, of 11 a.m. to 2 a.m., but will have a limited menu until the grand opening on April 27.
Cool is opening Red Rock with his parents, John and Nancy, and said he couldn't be more excited to see the family's hard work pay off. Cool said the restaurant wouldn't have been possible without the collaboration.
"My parents moved out-of-state 10 years ago and have been staying here for the last year and a half to help," he said. "My wife and my brother have been helping non-stop, too. It's really been a family project."
Cool even put his personal life on hold for the family-driven endeavor.
"I got married the week we signed for the space," Cool said. "We haven't even had our honeymoon yet. So once everything settles a bit, I'm really looking forward to that."
The restaurant hopes to appeal to a wide range of clientele, including business people, students and Eastern Michigan University faculty members.
Cool said the house specialty is a no-brainer: the barbecued pork.
"We've really spent a lot of time perfecting our pork," he said. "It's all great, but the pulled pork and ribs really have been on-point."