Posted on
Tue, Aug 24, 2010 : 6:30 a.m.
Ann Arbor's Zamaan Cafe: An oasis among construction barrels on Plymouth
By Mary Bilyeu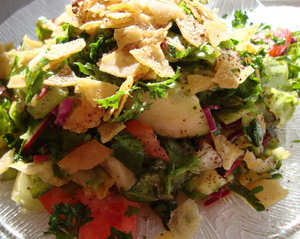 I live near the monument to orange barrels that Plymouth Road has become. Trying to get anywhere - avoiding dump trucks, traffic, the roundabout on Nixon for which I have no words that can be used on a family-oriented website ... well, let's just say that I receive daily proof that God exists and that He wants me to work from home rather than ever leaving my house again.
But as someone who has been enduring this nightmarish migraine for several weeks now, I have only one thing to say: Zamaan Cafe - at the corner of Plymouth and Green and right near an entrance ramp for US-23 (in other words, right in the midst of the chaos) - is worth every moment you will spend slogging through to get to your food.
Jeremy, Tom and I ate there recently, and had a most fabulous dinner! There is an extensive menu, which of course only causes problems for me because everything sounds delicious: traditional Middle Eastern favorites like falafel and kibbeh and numerous varieties of hummus ... Pita Pockets with fillings from eggplant to chicken to beef ... burgers ... and specialties such as Shish Tawook (marinated charbroiled chicken) and Mujaddara (a wonderful lentil and wheat dish with caramelized onions). Desserts include baklava and rice pudding, which I adore! And such wonderful treats as mint tea and Turkish coffee are even offered. Oh, the possibilities!
Jeremy said that he wasn't very hungry, so he was going to simply order the chicken wing appetizer. I tried to persuade him, in my very best "Eat, Papa - No one likes a skinny Santa!" voice, to order more; but he could hear the call of the lemon and garlic marinade and wouldn't budge. Tom's favorite Middle Eastern food is Chicken Shawarma, so he naturally ordered that sandwich. As per usual, I debated many options before finally settling on the Shish Kebab sandwich.
The Pita Pockets come with a combo option: add a beverage and a choice of soup, salad, rice or fries for $2.75. Since the sandwiches are all under $5, this makes for a very reasonably priced complete meal and a tremendous value. So Tom ordered fattoush for us to share, and I ordered "Saffron Rice with Cranberry and Nuts" for everyone to try.
Our waitress was warm and friendly, and she was very helpful in answering a few questions about portion size and combination possibilities. We admittedly waited awhile for our food to arrive; the small restaurant was about half-filled, so it was a busy time. But oh! It was so very, very worth the wait once we bit into our meals!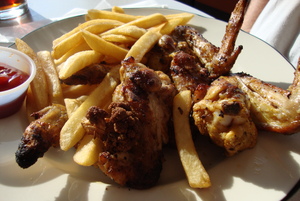 Jeremy didn't just find a small plate with a few spindly chicken wings, which is what I'd envisioned; huge, fragrant wings were tantalizingly placed in front of him, and the $6.95 "appetizer" even came with fries, turning it into the complete dinner I'd tried to get him to order. Jeremy very graciously let Tom and me both try the wings, and they were amazingly good! Lots of flavor, and so tender that the meat literally fell off the bones. Jeremy declared these to be the best chicken wings he'd ever eaten, and they were so good that I can hardly be offended that he thinks they beat anything I've made.
The sandwiches were huge, about a foot long, and fully stuffed with all the fabulous ingredients that had been promised with no skimping whatsoever. Tom's Chicken Shawarma was loaded with tender chicken, tomatoes and pickles, and fragrant with a luscious garlic sauce. It was exceptionally good, and Tom - who is normally a very disciplined eater - was tempted to eat the entire thing, even after we'd decided to save half of our sandwiches for lunch the next day to have something special to look forward to. The portions were so generous that, truly, half a sandwich plus half a salad plus some rice was a full meal.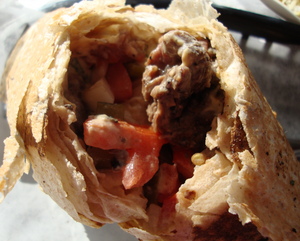 My Shish Kebab Sandwich was a thing of beauty, with tender cubes of meat and lots of tomatoes and pickles and onions. It was absolutely luscious, and I could have happily devoured the entire thing if we hadn't made the agreement to save some for lunch. I am not a disciplined eater; I am someone who relishes good food and who eats far more than most people think I can. But I was good and I focused more on the salad and on the rice, which was perfectly cooked - each individual grain was tender and distinct from the others with no clumping. There were flecks of orange and subtle hints of flavor from the saffron, and the toasted almonds were a perfect enhancement. There were no cranberries to be found, but we survived; the dish was lovely even without them.
We decided to save dessert for another time, because I think that a Turkish coffee and a piece of baklava would make an ideal snack midday, but the coffee would have been too strong in the evening (for a noted insomniac like myself, anyway). I can easily see myself becoming a regular at Zamaan Cafe, with its warm intimacy and fabulous food. And I highly encourage you to battle the barrels to eat there yourself - I promise you won't be disappointed!
Zamaan Cafe 3580 Plymouth Road Ann Arbor 48105 734-213-3350 Open 7 days: 10 a.m. - 10 p.m. Dine In, Carry Out, Delivery, Catering (in the complex with Busch's: map)

Mary Bilyeu has won or placed in more than 60 cooking contests and writes about her adventures in the kitchen. The phrase "You Should Only Be Happy" (written in Hebrew on the stone pictured next to the blog's title) comes from Deuteronomy 16:15 and is a wish for all her readers as they cook along with her ... may you always be happy here. Check out her blog -- Food Floozie -- in which she cooks, reviews restaurants, and generally enthuses and effuses over all things food-related. Or send an email to yentamary@gmail.com.