Posted on
Wed, Jan 4, 2012 : 2 p.m.
Try zesty lemon spaghetti to celebrate this pasta's special day
By Mary Bilyeu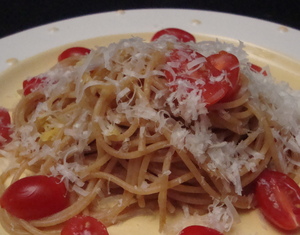 Mary Bilyeu | Contributor
It's National Spaghetti Day, a great reason to celebrate!
I could give you a recipe for a traditional tomato-based pasta sauce, but that wouldn't be very interesting. I could offer spaghetti and meatballs, but that's overdone as well. Both of these options are delicious! But we can be a bit more creative, I think.
So today I'm offering something nutritious, something bright and flavorful. We need all of the above attributes to help us get through cold, dark days in winter, don't we?
Mangia bene!
Zesty Lemon Spaghetti
4 ounces whole wheat spaghetti
3/4 cup dry white wine
pinch of red pepper flakes
1/2 cup grape tomatoes, halved
finely grated zest of 1 lemon
Parmesan cheese, for serving
Prepare spaghetti according to package directions.
In a small saucepan, bring the wine and the red pepper flakes to a boil; continue to boil for 5 minutes, to reduce the liquid a bit. Stir in the tomatoes and lemon zest.
Drain the spaghetti, coat it in the wine sauce, and divide among 2 dinner plates. Top with cheese and serve immediately.
Serves 2.

Mary Bilyeu writes about her adventures in the kitchen - making dinner, celebrating holidays, entering cooking contests ... whatever strikes her fancy. She is also on a mission to find great deals for her Frugal Floozie Friday posts, seeking fabulous food at restaurants on the limited budget of only $5 per person. Feel free to email her with questions or comments or suggestions: yentamary@gmail.com.
You should also visit Mary's blog — Food Floozie — on which she enthuses and effuses over all things food-related.


The phrase "You Should Only Be Happy" (written in Hebrew on the stone pictured in this post) comes from Deuteronomy 16:15 and is a wish for all her readers - when you come to visit here, may you always be happy.