Posted on
Mon, Jan 30, 2012 : 3 p.m.
Zingerman's founder: 'Ann Arbor, other than the weather, is a great place'
By Jessica Webster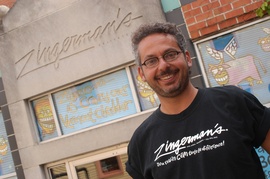 Micheline Maynard has
an interview
with
Zingerman's
founder Ari Weinzweig on The Atlantic site as part of the
"Why I Love My City"
series.
Weinzweig came to Ann Arbor from Chicago to attend the University of Michigan in the mid 1970s and decided to stick around. With the success of the Zingerman's Community of Businesses, he and co-founder Paul Saginaw are approached regularly to move or expand their concept to larger cities, but they're not interested.
"People are always, saying, 'You could' and I say, 'I don't wanna.' "
You can read the full article on the Atlantic site.