Posted on
Mon, Aug 19, 2013 : 4:05 a.m.
Tomato-Zucchini Tapas is delicious use of August vegetables
By Peggy Lampman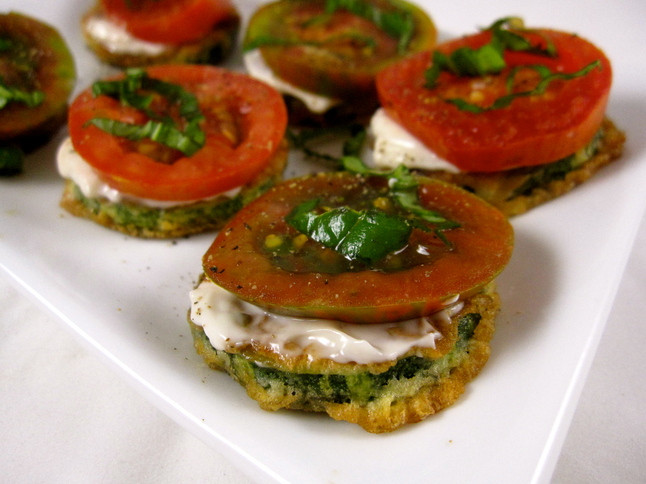 Peggy Lampman | Contributor

To receive my lastest dinnerFeed posts
by email, sign up here.

Here's a delicious way of using two favorite August vegetables: tomatoes and zucchini.
The genesis of the recipe comes from the August edition of Traverse Magazine, though I made several changes.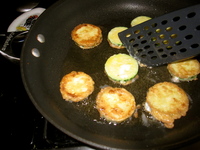 I reduced the amounts and did not peel the zucchini, as the recipe suggests. I substituted basil for the parsley, and used locally-grown zebra tomatoes from the Farmers Market.
I also added a few drops of Spanish sherry wine vinegar to the mayonnaise, to give it a smidgen of Spanish flair, giving me vague license to call this a tapas, which refers to a variety of appetizers in Spanish cuisine.
The next time I make this, I may dip in the zucchini in panko for added crispiness before frying.
Click here for more well-tested ways of using zucchini.
Ingredients:
1 medium-sized zucchini, cut into 1/4-inch rounds (22 pieces)
1 large egg, beaten
1/4 cup white flour
1/4 cup canola oil
3 tablespoons mayonnaise
1 teaspoon Spanish sherry wine vinegar
22 slices from small tomatoes, such as Zebra, cherry or grape, preferably locally grown
1/4 cup fresh basil, chopped
Directions:
1. Lightly season one side of zucchini slices with kosher salt and let rest on paper towels 5 minutes.
2. Dredge zucchini slices in flour then dip in egg.
3. In your largest saute pan, heat oil over medium-high heat and fry zucchini, in batches, until golden brown on both sides, 6-8 minutes total fry time. Drain on paper towels and liberally season with freshly ground pepper.
4. Mix vinegar into mayonnaise and evenly divide and spread mayonnaise over zucchini slices. Top with tomato and basil and serve.
Peggy Lampman is a real-time food writer and photographer posting daily feeds on her website and in the Food & Grocery section of Annarbor.com. You may also e-mail her at peggy@dinnerfeed.com.