Posted on
Wed, Sep 12, 2012 : 2:54 p.m.
Former local swimmer Dan Stephenson returning for book signing at Nicola's
By AnnArbor.com Staff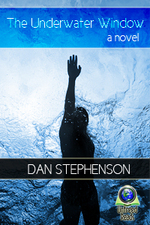 Dan Stephenson
, an Ann Arbor native and world-ranked swimmer, returns to town on Thursday for an appearance at Nicola's Books to promote his first new book—a swimming-themed novel set in a city very much like Ann Arbor.
According to a press release, Stephenson's "The Underwater Window" "takes readers into the pressure-packed world of Olympic swimmers. Stephenson ... immerses his readers in the grueling, lonely and immensely satisfying experience of training and racing at an elite level.
"Michigan readers will recognize hints of the author's roots in the novel: The swimmers compete at 'Southern Michigan University' in 'Huron Springs,' but echoes of Ann Arbor fill the book."
The book focuses on a swimmer nearing the end of his career with one last chance at an Olympic gold medal, but his friend and training partner holds the record in the event.
Stephenson has been inducted into the Pioneer Sports Hall of Fame for his performances in the 1970s. He also competed at the collegiate and Team USA level. More recently, he has broken world records as a masters swimmer and is presently in training at the Rose Bowl swimming complex for the World Masters Championships.
An attorney, Stephenson is the director of litigation for the Dykema Gossett law firm and now lives with his wife, Tracey, just outside Pasadena.
Dan Stephen son will appear at 7 p.m. Thursday, Sept. 13 at Nicola's Books, 2513 Jackson Road. Admission is free.