Posted on
Tue, Feb 12, 2013 : 1:26 p.m.
Forthcoming Spinner's Flock Fleece Fair fundamental for fiber enthusiasts
By Ann Dwyer
Calling all crafters: Stock up on your all your knitting needs at the Spinner's Flock Annual Winter Fleece Fair at Beach Middle School in Chelsea.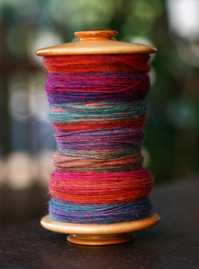 We actually have a cold winter this year, and certainly someone you know is wearing mismatched gloves, lost their hat on the bus, or has hideous taste in sweaters. Help them!
Whether you're a handspinner, knitter, weaver, felter, fiber enthusiast or all of the above, you'll find the equipment and supplies you need. There will have hand-spun yarn, exotic yarns, raw fleeces, dyes, books, and more—basically everything you'll need to keep your hands busy. There will also be finished items such as rugs and garments available for purchase.
For more information, visit www.spinnersflock.com or www.facebook.com/spinnersflock.
Saturday, Feb.16, 2013. 10 a.m-4 p.m. Free admission. Wheelchair accessible. Beach Middle School is at 445 Mayer Dr., Chelsea. 734-433-2202.