Posted on
Mon, Feb 21, 2011 : 5:59 a.m.
Frank Allison back performing in public, playing Circus' Bluegrass Night
By AnnArbor.com Staff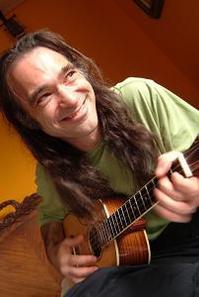 Frank Allison — who led the ultra-popular local dance band Frank Allison and the Odd Sox in the 1980s and '90s — will play a short set to open the Circus Bar's Bluegrass Night at 10:30 p.m. Wednesday.
This is big news, because Allison retired from music in 1996 due to a medical condition called spasmodic dysphonia that left him unable to sing. According to his website, he's been learning to work around the condition and is now seeking public gigs.
Allison will be the opening act this night, supporting the Ypsitucky Colonels.
Doors open at 8 p.m. at Circus, part of the Cavern Club complex at 210 S. First St. Allison's set is expected to start at 10:30 sharp, followed by the Ypsitucky Colonels. Ages 18 and older welcome; 18-20, cover $5; over 21, no cover.
A sample of Frank Allison's contemporary work:
Short documentaries on Frank Allison and the Odd Sox: