Posted on
Tue, Apr 2, 2013 : 9:09 a.m.
Macpodz, Frank Zappa guitarist highlight 2 Hash Bash-related events Saturday
By Roger LeLievre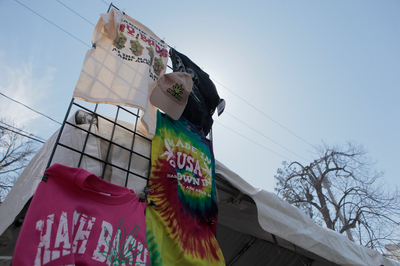 Chris Asadian | AnnArbor.com file photo
The 42nd edition of Ann Arbor's annual Hash Bash
will be upon us on Saturday, bringing with it several thousand marijuana legalization proponents to the University of Michigan Diag.
Less well known, but now well established, are two related events the same day: the annual Monroe Street Fair and the Blind Pig's annual Hash Bash show, this year featuring local favorites The Macpodz and special guest Ray White, formerly of Frank Zappa's touring band. Also on the bill are Luke Winslow King, and The Crane Wives.
The Monroe Street Fair takes place on (surprise) Monroe Street near the University of Michigan campus in the afternoon from noon-6 p.m. It's free, and will include Memphis rapper Lil' Wyte, Detroit-based reggae artist King Jazzy, Nashville's Chief Greenbud (described as "Cheech and Chong" meets "Jimmy Buffett"), Fraser, Mich. rock band I.L.O., metal rockers Harm's Way and country singer Austin Scott.
PREVIEW
Monroe Street Fair
Who: Musicians and vendors.
What: Annual street fair with music, handmade goods and more.
Where: 800 block of Monroe Street, Ann Arbor (two blocks south of the U-M Diag).
When: Saturday, April 6, noon-6 p.m.
How much: Free. Info: www.monroestreetfair.com.
Beside the music, the Monroe Street Fair allows the sale of handmade arts, crafts and T-shirts (while discouraging mass-produced items).
The Monroe Street Fair started more than 15 years ago as a block party (in 2002 and 2003 it was known as the Free Fest). Although none of them are from Ann Arbor, this year's acts promise to keep the joint jumping after the morning's pro-pot speechmaking is over.
Matthew Altruda, the local impresario and organizer of the Bling Pig show (and who formerly managed The Macpodz) said the band is thrilled to be performing with vocalist/guitarist White in a show that will pay tribute to Zappa.
"The Macpodz have a lot of originals you can tell were influenced by Zappa. They are dancing in the streets to say the least," Altruda said.
PREVIEW
Hash Bash concert
Who: The Macpodz, Ray White, Luke Winslow King, Crane Wives.
What: Annual musical celebration.
Where: Blind Pig, 208 S. First St.
When: 8:30 p.m. (doors) Saturday.
How much: $20 (advance, $15). Info: www.blindpigmusic.com.
"We added
Laith Al-Saadi
on guitar, so it's going to be The Macpodz and Ray White with Laith doing a bunch of Zappa songs. Ray's 67 now—it's going to be (The Macpodz) way of tipping their hat to getting Ray White the legend and bringing him on our stage also spoiling the Ann Arbor scene by giving them exactly what Frank would have wanted."
White joined Zappa in the fall of 1976 on rhythm guitar and vocals and left during the mid-1980s. He was also part of the tribute bands Zappa Plays Zappa and Project/Object.
One well-known personality who will probably be absent from this year's Hash Bash activities is John Sinclair. Altruda said the poet, writer and political activist, probably best-known in Ann Arbor as the man who was arrested in 1969 for giving two joints to an undercover cop, then sentenced to 10 years in Jackson prison, will be unable to attend due to health reasons. Sinclair was often backed in his Ann Arbor appearances by The Macpodz.
"He wanted to come, he said he's was going to, but now he is not going to be back. … He's been having health issues," reported Altruda.
The Macpodz play a kind of funky dance music they've coined "disco-bebop," paying homage to kinky musical concoctions like Zappa's groovy, unstructured big-band instrumental works, with psychedelic tinges of Afro-era Miles Davis. Since forming in 2007, the band has recorded several albums and, thanks to its energetic live shows, attracted plenty of fans locally and across the region.
Luke Winslow King, originally from Cadillac, Mich., and now based in New Orleans, plays danceable, New Orleans-flavored swing. He and his band have opened for Jack White. The Crane Wives, from Grand Rapids, recently packed The Ark on a Take A Chance Tuesday performance.
"I recommend you get your tickets in advance," said Altruda of the Blind Pig show. "This is going to be a barn burner."