Posted on
Tue, Feb 14, 2012 : 9:19 a.m.
Free screening of Oscar-nominated 'The Barber of Birmingham' happens Wednesday
By AnnArbor.com Staff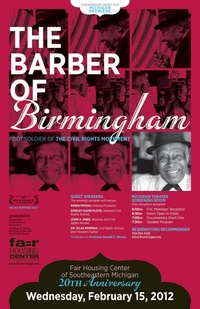 The
Fair Housing Center of Southeastern Michigan
will mark its 20th anniversary by screening the 2012 Oscar-nominated documentary short
"The Barber of Birmingham"
for free at the
Michigan Theater
's screening room (603 E. Liberty St.) on Wednesday, Feb. 15 at 7 p.m., and present a post-film discussion with the film's co-director/producer
Robin Fryday
, as well as
Shirley Gavin Floyd
, director of the Civil Rights Activists Committee of Birmingham, Alabama;
John A. Obee
, attorney working at Wood, Kull, Herschfus, Obee & Kull, P.C.;
Dr. Silas Norman
, Wayne State medical school, civil rights activist, and freedom fighter; and
Ronald C. Woods
, professor, Eastern Michigan University.
On Wednesday, doors open at 6:30 p.m.; the film will screen at 7 p.m.; and the discussion begins at 7:30 p.m.
"The Barber of Birmingham," produced and directed by Fryday and Gail Dolgin, documents the story of James Armstrong, a WWII veteran and an original flag bearer for the 1965 "Bloody Sunday" march from Selma to Montgomery, who for half a century ran a voter education program out of his barbershop.
Armstrong was the catalyst in initiating the 1957 class-action lawsuit to integrate area schools after wanting to enroll his sons in the all-white Graymont Elementary school. Despite threats to his life and home, his two sons were the first to integrate the school. Speaking to his dedication to the cause, and to his persistence in the fight for equal rights, he's quoted as saying "Dying isn't the worst thing a man can do. The worst thing a man can do is nothing."