FutureStars 2013 finals are sold out, but livestreaming available
Posted on Wed, Jan 16, 2013 : 1:15 p.m.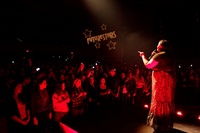 Following four themed preliminary competitions that happened over the weekend, the finals of Pioneer Theatre Guild's FutureStars 2013 talent competition (open to all AAPS students) is scheduled for Saturday, Jan. 19 - and according to producer Susan Hurwitz, tickets are already sold out.

But if you hadn't yet gotten tickets and still want to see the show, consider pursuing a livestream option by way of StageIt.com. The cost for livestreaming is $10. PTG's website offers complete instructions for those interested in the livestreaming option.