Posted on
Fri, Sep 6, 2013 : 5:40 a.m.
EMU exhibit showcases work of legendary rock-poster artist Gary Grimshaw
By Kevin Ransom
For more than 40 years now, Gary Grimshaw, the celebrated rock-poster artist, has been a pop-culture legend in the Ann Arbor / Detroit area. Actually, that "legendary" status has straddled a few different sub-cultures - underground rock, visual arts and the counter-culture.
Grimshaw first won renown and acclaim in 1966, when he began creating vivid, colorful, psychedelic posters for concerts at the Grande Ballroom, Detroit's iconic rock 'n' roll theater, where he was also the light-show artist.
PREVIEW
Eastern Michigan University exhibit
Who: Gary Grimshaw
What: Exhibit of Gary Grimshaw's legendary poster art, original artwork, post cards and more.
Where: Eastern Michigan University Student Center, 900 Oakwood St., Ypsilanti
When: The artist reception, with Grimshaw in attendance, is Wed., Sept. 11, from 5:00 to 7:30 p.m.. The exhibit runs through Sept. 21.
Admission: Free. For info: Call (734) 487-1157
Many of his '60s / early-'70s posters alerted the faithful to shows by local bands -- the MC5, The Rationals, the Stooges, the Frost, the Up, SRC, etc. But he also created a steady and heady stream of surreal-looking posters for shows by groundbreaking national / international acts -- like the Who, Cream, the Grateful Dead, the Allman Brothers Band, the Doors, the original Jeff Beck Group, Jimi Hendrix, Big Brother & the Holding Company, Patti Smith, and on and on. Not to mention posters for early incarnations of the Ann Arbor Blues and Jazz Festival.
In the decades since, his body of work has only become more iconic, not just regionally, but nationally as well. And along the way, his work - which, in the early years, was regarded as "popular art" - became recognized as fine art, and made its way into museums and art galleries. Indeed, he played a key role in popular art winning that status and recognition from the art-school and gallery communities.
So it's fitting that his work will be the subject of a one-man show this month at the Eastern Michigan University Student Center - a show organized and sponsored by the Intermedia Gallery Group, a student-artist organization at EMU.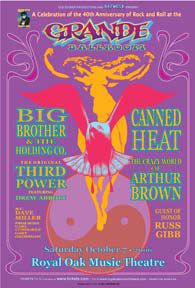 Courtesy
The exhibit had a "soft opening" on Sept. 4, but the real action begins on Wednesday, Sept.11, with a 5:00 p.m. artist reception that will be attended by Grimshaw and his wife Laura. "People who come that evening can meet Gary, and talk to him, and the art students can try to pick his brain a little," says Brad Ruff, the member of the Intermedia Gallery Group who conceived and organized the Grimshaw exhibit, which runs through Sept. 21.
The exhibit will feature 65 of Grimshaw's works - mostly originals, along with a few reproductions. Most of the works will be his posters, but also on display will be some of his original artwork and post cards that most people have never seen. And, starting on Wednesday, the day of the reception, people can purchase reproductions of Grimshaw's posters and drawings.
Prior to the reception, Grimshaw and his wife will give a presentation / slide show at 4:00 p.m. at EMU's Halle Library (955 W. Circle Dr., 734-487-0020). They'll talk about his art, his inspirations, and the book he published last year, "Detroit Rocks! A Pictorial History of Motor City Rock and Roll 1965-1975, " which he created with noted Detroit-area music photographer Leni Sinclair.
"Now I'm making up for it."
For his part, Grimshaw is excited about the exhibit, and especially Wednesday's reception.
"Yes, definitely," says Grimshaw. "I'm very pleased about this, and I like the fact that it's at a university gallery, and that young university art students appreciate my work, because I didn't have that background. I didn't get an art degree from a university. Back in the '60s, when I was starting out, I missed that whole scene completely - I was more inspired by other popular artists like Stanley Mouse, Rick Griffin and Victor Moscoso.
"So, now I guess I'm making up for it. I'm generally appreciative of any response to my work, but the fact that it's at a university sort of adds to the glamour of it. When I started doing this, I didn't expect that my work would receive the kind of acclaim it has, and that it would become so well-known, so that's all still surprising to me," says the soft-spoken Grimshaw.
"I also appreciate that that I've become recognized as an artist and not just a popular artist," says Grimshaw. "That's meant a lot to me. I've just been dogged in my persistence, and banging away at the same thing year after year, and it eventually paid off."
Ruff says that "it's exciting to see today's young art students discovering Gary's work and recognizing the creativity and the artistry that went into all of those great posters. Good art is good art no matter how old you are, and his work has that cross-generational appeal. And he really was responsible for bringing poster art to the fine-art world. He opened doors for many popular-art artists like Carl Lundgren and Dennis Preston.
"Obviously, people of Gary's generation, and fans of the great rock 'n' roll of the '60s and '70s, will love seeing so many of Gary's posters on display -- but his work also really appeals to the college crowd and young people in general," says Ruff. "It's already getting a lot of buzz on campus, and has grabbed their interest - to be able to see the work of an internationally renowned artist, and meet him, and see how many great bands he has worked with over the years."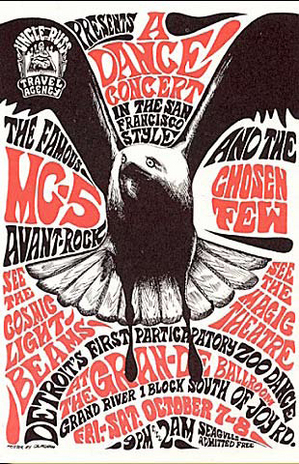 Courtesy
The sales of his posters and other works are very important to Grimshaw and his wife, because he has been hit hard in recent years by a series of severe health issues, and has undergone several serious surgical procedures. So Laura Grimshaw had to cut back to working just one day a week at her job, so she could be his caregiver.
As a result, their income has plummeted, which has caused financial hardship - so, they depend on the sales of Grimshaw's posters as a key income source.
Grimshaw is currently partnered with Lido Gallery in Birmingham, and also has a licensing partnership with Detroit Urban Design Studios. So his posters can also be purchased via http://www.everythingart.com/ and http://www.detroiturbandesignstudio.com/.
Many medical setbacks
As for his medical issues: In 2008, Grimshaw was diagnosed with a brain tumor and had brain surgery - but that diagnosis turned out to be incorrect, says Laura: "Several months ago, we finally discovered that what he really experienced back then was a stroke."
A few years ago, he also began having severe stomach problems, says Laura, which his doctors believed were due a blood clot becoming lodged in Grimshaw's intestine, "causing the majority of it to die off," she adds. The third surgery, in 2010, required the removal of two and a half feet of his small intestine. "So, he can't digest anything, and his health is always comprised, so he is often very weak."
And while he was in the ICU for five months recovering from that major stomach surgery, he had a series of smaller strokes, she says, so he sometimes suffers from memory loss or becomes disoriented. "So he really does need a full-time caregiver," she says.
"His memory is great when it comes to past events, like when he created those great posters and saw all those shows, in the '60s, '70s, '80s, and later. It's just the current, day-to-day stuff that he sometimes doesn't remember."
Fortunately, since he's a veteran - he served in the Navy during the Vietnam War - these many procedures and treatments have been covered by his Veterans Administration health insurance.
Ruff observes that Grimshaw has "made very little money" from his art over the years. "He came up during that era where a lot of people had a more communal perspective when it came to what was 'yours,' and what was 'ours'. He had that worldview, so he didn't really place monetary value on them," offers Ruff. "It wasn't until just the last several years that he began to feel that it was okay to charge money if he signed something, or sold reproductions of his posters."
But back to "Detroit Rocks!," the book he published with Leni Sinclair last year. For anyone interested in that halcyon period of Detroit / Ann Arbor rock 'n' roll / counter-culture history, it's is a must-have. The book is loaded with pics of Grimshaw posters and Sinclair photos of seemingly every major artist who performed at any notable Detroit-area show or festival of the era -- and also has sections / text devoted to the Grande, the Detroit Artists Workshop, the Belle Isle Love-In, the MC5, the White Panther Party, the Free John Sinclair Campaign, and more.
An autographed first-edition copy of the book is available at http://www.garygrimshaw.com/images/drocks.pdf, or a readers' edition can be had at Amazon.com.
(This Amazon page says they have only one copy, but Laura Grimshaw says that this is an error in the way the Amazon page was set up, and that there are plenty of copies available for sale.)
The MC5 / counter-culture years
Early in his career as an artist, Grimshaw became close to the MC5, the groundbreaking proto-punk band. He grew up in Lincoln Park, the Detroit suburb that spawned the MC5, and became good friends with the 5's frontman, Rob Tyner.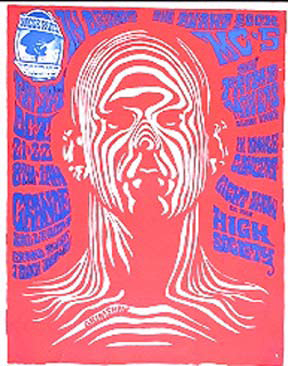 Courtesy
"Gary's mom used to drive Gary and Rob into Detroit to go to jazz clubs and sit with them while they watched sets from jazz greats like Cannonball Adderly and John Coltrane," says Laura Grimshaw. "They were both really into jazz, and comics, too. Rob took his stage name from McCoy Tyner." So, Grimshaw did many, many posters for MC5 shows - sometimes for their own headlining gigs, but more often when they were on a bill with one of the above-mentioned national acts. "But they were definitely my favorite band," says Grimshaw.
He was also very involved in the Detroit / Ann Arbor counter-culture scene of the '60s -'70s: After returning home from the war, he became an anti-war activist, was active in the White Panther Party and the Rainbow People's Party, and was involved in the efforts to get John Sinclair released from prison, after Sinclair had been given a 10-year sentence for giving two joints to an undercover narcotics officer.
Indeed, it was Grimshaw who created the famous poster for the 1971 John Sinclair Freedom Rally concert at Crisler Arena that was headlined by John Lennon and Yoko Ono.
Grimshaw and Laura moved to the San Francisco area in 1990, and returned to Detroit in 2004.
And it would be a mistake to think of Grimshaw's great artwork as being mostly artifacts from bygone eras. He continued doing posters in the 1990s and 2000s, for shows by artists / bands like Beck, the White Stripes, the Raveonettes, the Dirtbombs and the Greenhornes, plus the 2004 Fred "Sonic" Smith Tribute show at Detroit's Majestic Theater, the 2006 Grande Ballrooms's 40th Anniversary Concert at the Royal Oak Music Theater, etc.
And in 2011, just months after returning home from his major stomach surgery, Grimshaw began work on the Concert of Colors poster for that year's event, as well as several PJ's Lager House designs. And he's currently working on a poster for local singer-songwriters Joe Kidd & Sheila Burke, and he is doing the cover art for a new book of poetry by M.L. Liebler, the Detroit poet and Wayne State University professor
Meanwhile, the accolades keep coming for Grimshaw, In January, the Scarab Club in Detroit - a toney, prestigious art gallery and performance space -- will be presenting a career retrospective of Grimshaw's work.
"That will be a real honor," effuses Grimshaw -- "to have an exhibit at a gallery of that stature. That will be very exciting as well. Again, when I was younger, I never expected this kind of response to my work, and I'm still surprised by all of it."
Kevin Ransom is a freelance writer who covers music for AnnArbor.com. He can be reached at KevinRansom10@aol.com.