Posted on
Tue, Aug 31, 2010 : 5:32 a.m.
SRC's Gary Quackenbush plays Live at PJ's on Thursday
By AnnArbor.com Staff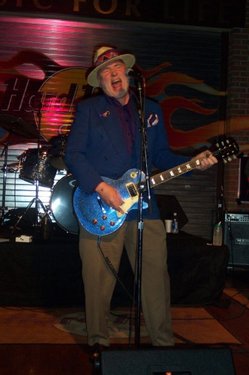 photo courtesy of Gary Quackenbush
The Thursday happy hour show at Live at PJ's this week merits some special attention: It features Gary Quackenbush, the acclaimed Ann Arbor guitarist who led SRC in the late 1960s and early 1970s.
SRC began life as the Scott Richard Case and had a regional hit with "I'm So Glad." They signed to Capitol Records as SRC, which All Music Guide says "blended Motor City crunch with sustain-laden psychedelic guitar, pompous bursts of organ, spacey lyrics, and unexpectedly wispy, vulnerable vocals, throwing in some pretty ballads and harmonies to temper the hard rock excess."
AMG's review of SRC's second album, "Milestones," notes that Quackenbush was "one of the most acclaimed soloists on the Detroit scene" at the time. (SRC albums, as well as Quackenbush's solo album, are available from SRCRecords.com as well as locally at Encore Recordings and Wazoo Records.)
At the show, expect to hear "I'm So Glad" as well as material from SRC's albums, including the "Lost Masters" rarities collection, plus a few covers.
In an email, Quackenbush elaborated: "From 'Lost Masters' we'll do 'Heatwave' and 'Get the Picture,' a Pretty Things song which was recorded back in the S R Case days, to be our first 45,'till we started doin' 'I'm So Glad' live and due to crowd response,we quickly recorded 'Glad,' and enjoyed its success."
Quackenbush also detailed the lineup of his current band: "In my All Star Detroit Band, I feature Larry Calder on lead vocals and rhythm guitar (from bands Full Circle, Ronnie & the Daytonas, & others), Pete Woodman on drums (The Bossmen, ? & the Mysterians, & more), Ralph McKee - bass, vocals (Blue Rays, Bridge Club), Ed Bourgois - keys (too many to mention)."
Quackenbush was featured at this summer's Concert of Colors in Detroit, where the great musician and producer Don Was introduced him by saying, "No one in the world plays the guitar like this guy."
Gary Quackenbush plays at Live at PJ's, 102 S. First St., during its Thursday happy hour from 6-9 p.m. this Thursday, Sept. 2. There is no cover charge.