Posted on
Mon, Aug 19, 2013 : 5:52 a.m.
George Bedard and hot new band explore "Ragtime to Rock-N-Roll" at Ark show Friday
By Roger LeLievre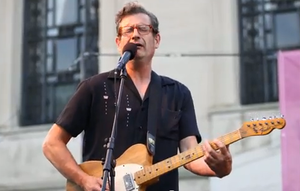 photo by Jeffrey Smith
Ann Arbor musical hero
George Bedard
lends his guitar skills to a new historical project, "Ragtime to Rock-N-Roll," which he unveils Friday at
The Ark
.
"This show, the first of what I hope to make an annual event, will be a chance to present a much broader range of styles and sounds than I've done in the past," says Bedard.
He plans to perform in a number of different contexts—solo, duo, and with a larger band. The music, as well as his new CD "Further On," delves into ragtime, Delta blues, swing, early rhythm & blues, Chicago blues and the rock 'n' roll of the 1950s.
The band Bedard has put together for this project includes Washington, D.C. keyboardist Daryl Davis, Michigan trumpeter and composer Ingrid Racine, Detroit bassist and jazz veteran Pat Prouty, Macpodz guitar wildman Brennan Andes, Detroit bop and post-bop saxophonist Steve Wood and garage rock drummer Rich Dishman.
If you've seen George live before, you know he never disappoints, and this promises to be an extraordinary, one-of-a-kind show.
George Bedard presents Ragtime To Rock-N-Roll Friday, Aug. 23 at 8 p.m. at The Ark, 316 S. Main St. Tickets are $20. Ann Arbor Details at www.theark.org or 761-1800.