Posted on
Fri, Jul 5, 2013 : 9:50 a.m.
George Bedard and the Kingpins back to close Top of the Park season and release a new CD
By Roger LeLievre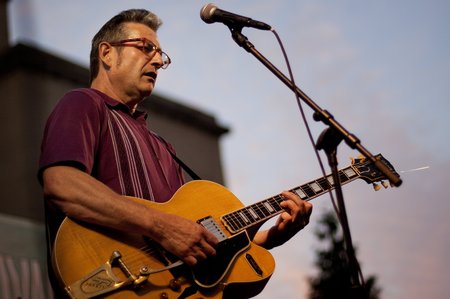 Jeffrey M. Smith | AnnArbor.com file photo
Ann Arbor rockabilly / blues master
George Bedard
, backed by his long-time band The Kingpins, will
close the Ann Arbor Summer Festival's Top of the Park series
with a show Sunday night, the first of three upcoming high-profile local gigs.
He's been TOP's closing act for so long it's become something of a tradition. Sunday's gig, however, also has another purpose: Bedard has a new album out called "Further On," and the performance will mark its official release.
No one is exactly sure what year the band first started performing at the festival. Bedard thinks it was 1991 (the group formed in 1989). However, Bedard, who recently turned 60, is excited about the new CD and about the future.
The new disc—recorded over a year's worth of sessions at Callahan's Music Hall, a live blues music venue in Auburn Hills—is a mix of blues originals and covers. It comes a scant few years after Bedard released "Pickin' Apart the Past," an all-instrumental CD of guitar versions of jazz, swing, and blues material from a variety of composers.
"Two years between CDs is a record short period of time (for me)," Bedard said.
The disc's title is based on the tune "Further On Up the Road," a blues song first recorded in 1957 by Bobby "Blue" Bland. Among other artists covered—some with additional lyrics by Bedard—are T-Bone Walker (Party Girl"), Little Richard ("Slippin' and Slidin'"), Elmore James ("Stranger Blues") and Big Joe Turner ("Flip, Flop, Fly").
PREVIEW
George Bedard & the Kingpins
Who: Well-loved, well-respected local roots rock band.
What: Popular local act closes this year's Top of the Park series with a show of swinging blues that will also serve as a CD release party.
Where: Top of the Park, East Washington Street at Ingalls Mall, Rackham stage.
When: 8 p.m. Sunday, July 7. Bedard also plays The Ark on Aug. 23 (with a different band) and Sonic Lunch on Aug. 29 (with the Kingpins).
How much: Free. Info: www.annarborsummerfestival.org.
The disc also includes several of Bedard's original blues compositions, including "The Only Thing," "You Put the Hurt on Me," "King-O-Ling," and Bedard's rousing slide guitar tribute to Elmore James, "Laid Across My Bed."
Besides Bedard and the Kingpins (longtime bandmates Randy Tessier on bass and Rich Dishman, drums), upright bass player Pat Prouty and keyboardist Chris Codish also play on the new album.
"I get to do something that's not suited for the trio," he added.
Six of the disc's 13 tunes—released on Bedard's own Bossitistic Music Label—come from a session in May where Bedard, plus Codish and Prouty, hit all the right notes despite never having played together before.
"When playing a tribute concert to the late Johnnie Bassett last year, I was struck by the depth of Chris' playing and the way we meshed so effortlessly," explained Bedard. "I realized the ability to add a whole new dimension to the project by including these guys, and we scheduled a final recording session with Chris, Pat and Rich to round out the album's sound. The result was one of the greatest musical experiences of my career."
The T-Bone Walker track "Cold Cold Feeling," on which Prouty and Bedard solo, is a disc highlight. "Chris and I are sympatico," Bedard said. "We really mesh stylistically."
Born in Mount Clemens, Bedard spent most of his life in Ann Arbor. He has been playing around town for more than 40 years, starting in the basement of the Blind Pig when he was 17. A self-taught musician, he has also played in The Bonnevilles, The Silvertones, Tracy Lee and the Leonards, and Drivin' Sideways.
Bedard has also earned his share of recognition on the national level, sharing the stage with such blues luminaries as Eddie Taylor, Joe Turner, Big Walter Horton, Bonnie Raitt, Johnnie Johnson, Kim Wilson and many others.
"The blues was my first love," said Bedard, "and though I've explored other genres I've always wanted to do an all-blues recording. The many requests to release a live performance album were finally able to be answered while allowing me to return home to the music which inspired me to become a musician in the first place."
He said he plans be on hand after the Top of the Park show for an autograph session before heading on the road for a series of blues festival performances. He'll also be back at The Ark Aug. 23 for his "Ragtime to Rock-n-Roll" show, with a new band, and he's been booked to close the downtown Sonic Lunch series Aug. 29.