Posted on
Fri, Jul 8, 2011 : 8:40 a.m.
A new CD, and another Top of the Park closing show from consummate Ann Arbor guitarist George Bedard
By Roger LeLievre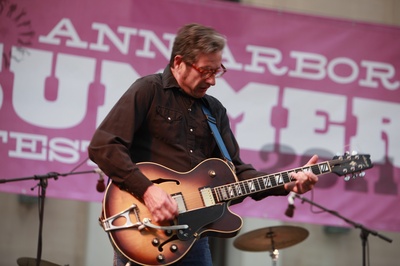 Fans of Ann Arbor guitar ace / roots rocker
George Bedard
have two reasons to celebrate Sunday.
As he has for nearly 20 years, Bedard, backed by his band The Kingpins, will close the Ann Arbor Summer Festival's Top of the Park series with a show at 8 p.m. However, the gig has another purpose: Bedard has a new CD out, and the performance will mark its official release.
More than four years in the making, "Pickin' Apart the Past" offers guitar renditions of classic jazz, swing, and blues material from a variety of composers.
"It was stuff I had either always wanted to learn or had tried to learn before and never quite got there," Bedard explained. "I figured this was the time."
Besides Bedard, the CD features musicians such as Steve Nardella, Al Hill, Mark O'Boyle, Carl Hildebrandt, Kingpins bassist Randy Tessier, Kingpins drummer Rich Dishman, Brian Delaney, Pat Prouty and Andy Conlin. The CD, recorded at Ann Arbor's Big Sky studio, is being released on Bedard's own Bossitistic Music Label.
PREVIEW
George Bedard & the Kingpins
Who: Highly skilled local guitarist and band, presented by the Ann Arbor Summer Festival.
What: In what has become an annual tradition, George Bedard & the Kingpins will close Top of the Park and the Ann Arbor Summer Festival season with a show that will also serve as a CD release party.
Where: Top of the Park, in Ingalls Mall on East Washington Street.
When: 8 p.m. Sunday, July 10.
How much: Free. More information: www.annarborsummerfestival.org.
For the Summer Festival show, Bedard and the Kingpins will take the stage for the first set and then be joined by Nardella, O'Boyle, Delaney, Hildebrandt and Jim King (in for Al Hill on the organ) in the second set, which will feature music from the new disc. Bedard will also sign CDs after the show that evening.
He said the idea for a CD of instrumentals has always been in the back of his mind.
"Most of the stuff I wanted to learn was instrumental guitar, so it seemed logical," Bedard said, adding that he spent many hours listening to original recordings of the songs in order to get the sound exactly right.
The disc includes such classic works as "Okie Dokie Stomp," "Minor Swing," "Flying Home," "Topsy/Swing to Bop," "Cleo's Mood" and "Last Date."
Additionally, Bedard has included two new original pieces, "Lockwood Jump" (written with musical pal Steve Nardella and rediscovered on an old audio tape) and "Yellow Room Rag."
"Robert Lockwood, he's on probably half the Chess blues records ever recorded; he was a real idiosyncratic but very recognizable guitarist," Bedard said. "He lived in Cleveland in the '70s and used to come here and play at the Blind Pig all the time so I got to see him many times. (The song) is kind of pastiche Steve and I put together playing in the Silvertones. He's always been one of my favorite guitar players."
The "Yellow Room Rag," an homage to Blind Blake, allowed Bedard to work on his finger-picking skills. "I painted my mother's bedroom bright yellow a couple of years ago," he explained of the song's title. "I wanted to dedicate a song to my mother, and since that was one of two originals, that was the logical choice."
The classic movie theme "The Good, the Bad and the Ugly," by Ennio Morricone, is a song Bedard's been doing live for years. "In the recording we had two different guitars answering one another—the fuzz tone on one and the clean tone on the other, that call-and-response kind of thing," he said.
"Minor Swing 65" is an updated (to the 1960s) version of the Django Reinhardt classic, using a version Reinhardt recorded on an electric guitar, which was considered by some to be an abomination, Bedard said. "I like his electric guitar playing," he added: "I like playing songs different than they were intended to be. I got the idea of doing it as if an early '60s surf band had recorded a Django Reinhardt tune. That was my basis for that." Born in Mount Clemens, Bedard spent most of his life in Ann Arbor. "We moved around a lot but my dad ended up going to graduate school here," he recalled. Bedard has been playing around town for more than 40 years, starting in the basement of the Blind Pig when he was 17.
A self-taught musician, Bedard, now 58, has also played in The Bonnevilles, The Silvertones, Tracy Lee and the Leonards and Drivin' Sideways. "A few people showed me things," he remembered.
Not only does he have a new CD (and even a Facebook page), Bedard also has a new Web site: www.georgebedard.com. Next up, he added, will be a CD of original tunes, as well as a reunion of the band at the Smokin' Jazz & Barbecue Blues Festival in Brighton Sept. 10.
Although Bedard admitted he hasn't toured much out of the area in order to stay close to his family, his kids are older now and the road beckons once again.
"I'm starting to get itchy … I like playing and I'd like to play more than I do now, so if that means traveling, I'm OK with that," he said.