Posted on
Mon, Mar 14, 2011 : 1:49 p.m.
George Clooney's 'Ides of March' shooting under way at U-M's Arthur Miller Theatre
By Jenn McKee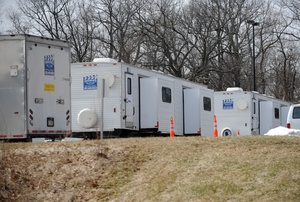 Melanie Maxwell | AnnArbor.com
You might want to check your hair and make-up, ladies.
Movie star/director George Clooney is in Ann Arbor today for the first of four expected days of local filming for his newest project, "The Ides of March," with today's shooting taking place at the University of Michigan's Arthur Miller Theatre, in the Walgreen Drama Center on North Campus.
All the now-familiar signs of a movie shoot are present. A line-up of semi-trucks (Chow Catering, Wild Horse Movie Trucks, etc.) populate the building's parking lot and driveway; neon signs that read "IOM" point extras and others to where they need to go; a handful of security guards stand around the set's perimeter, to keep the area closed to the public (and the press); two big, rolling carts with coffee and fruit and salad stand beneath the lobby's staircase; a few dozen extras are on-hand nearby, in the lobby and just outside the building entrance, being quieted every few minutes by a loud call of "Quiet on the set! Rolling!"; and in a nearby studio space, long tables with stacks of plates, as well as a steady stream of caterers entering and leaving, suggested that by late morning, a lunch break for the cast and crew was imminent.
"Ides" publicist Tracey Schaefer estimated the crew's arrival at the Miller Theatre this morning at about 8-9 a.m. The film team will be working in the space all day, with all shooting happening inside the theater. Schaefer also estimated 200 extras would be part of today's shoot, since the scenes depict a politician's town-hall-style meeting.
Melanie Maxwell | AnnArbor.com
Schaefer and a security guard said that there had been a lot of student traffic in the area, but that students had been "pretty compliant," so shooting thus far had gone smoothly.
Local shooting for "Ides" over the next three days is expected to also take place at the Power Center and Michigan League Ballroom.
"Ides" stars Ryan Gosling, Paul Giamatti, Marisa Tomei, Philip Seymour Hoffman, Evan Rachel Wood, and Clooney, who is also directing.
Based on Beau Willimon's play "Farragut North," "Ides" casts Clooney as a Howard Dean-type Presidential hopeful, while Gosling plays the lead character — a wunderkind press secretary who finds himself embroiled in the ugly world of back-room politics.
Meanwhile, a casting company is still seeking extras for Tuesday's filming.
Jenn McKee is the entertainment digital journalist for AnnArbor.com. Reach her at jennmckee@annarbor.com or 734-623-2546, and follow her on Twitter @jennmckee.