Posted on
Thu, Mar 17, 2011 : 5:59 a.m.
George Clooney video gallery: the early years
By Jenn McKee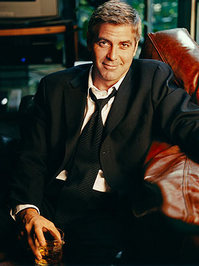 Since Oscar-winning actor and director George Clooney is in Ann Arbor this week, shooting his newest project, "The Ides of March," we thought it woud be fun to compile a video gallery of Clooney's earliest TV and film work, starting with a situation comedy called — believe it or not — "E/R," which premiered in 1984, and a TV series called "Street Hawk," with Rex Smith (I'd never heard of it, either, but I think there's a reason for that). Enjoy.
Clips of Clooney as a young, bad-boy medical technician named Ace on the sitcom "E/R" (watch for MTV's Martha Quinn and "Seinfeld"'s Jason Alexander):
Segment from another short-lived TV series, "Street Hawk":
As handyman George Burnet on the TV sitcom, "The Facts of Life":
As a cop who gets killed in "Return to Horror High":
See Clooney briefly in this "Combat Academy" trailer, at 1:29 and 2:25:
I couldn't find footage of Clooney's appearance on "Murder She Wrote," but in this German ad for the episode, he's held up as quite a tantalizing draw (note the sax music, and the way the voiceover person says his name):
Clooney played a young Miami detective in this 1988 "Golden Girls" episode (he makes his entrance about 2 minutes in):
In a scene from the 1988 film, "Return of the Killer Tomatoes"
Clooney was a recurring player on on "Roseanne" in the late '80s, playing the title character's boss, Booker.
A trailer for the 1990 film, "Red Surf":
An intro and clip from the 1991 TV series "Baby Talk," which looks pretty terrible, but featured what was arguably Clooney's hair at its longest and most out of control:
Clooney appears 10 seconds into this montage of a few clips from the film "Unbecoming Age," which was later re-titled "The Magic Bubble":
In 1993, Clooney appeared with Sela Ward in a scene from "Sisters" - making a "Commish" reference and everything!
And, of course, most of us first got to know Clooney as the bad boy doctor (sound familiar?) Doug Ross on the NBC drama, "ER":
Jenn McKee is the entertainment digital journalist for AnnArbor.com. Reach her at jennmckee@annarbor.com or 734-623-2546, and follow her on Twitter @jennmckee.