Posted on
Fri, Mar 18, 2011 : 7:59 a.m.
George Clooney's 'Ides of March' wraps up Ann Arbor filming
By Jenn McKee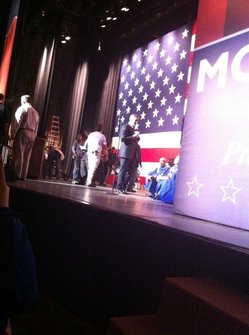 While George Clooney's newest feature film project, "The Ides of March," was being shot on the University of Michigan's campus Monday-Thursday, U-M Film Office director Lee Doyle got a small taste of the lengths fans will go to to see the star in person.
"We've had women saying, 'But George just texted me to come on up,'" said Doyle. "And there was a lovely woman from another country saying, 'Ryan Gosling is my husband.' But the green leprechaun was my favorite."
The green leprechaun?
"With (Thursday) being St. Patrick's Day, (it was) harder than usual to keep people off the set, and someone dressed as a green leprechaun told us we'd get a pot of gold if she could just get past the barrier," Doyle explained.
Alas, the luck of the Irish didn't carry the day; the leprechaun didn't make it through security.
But Courtney Riddle-Myers — a local theater artist and managing director of the Center for Research on Learning and Teaching Players at U-M — counted herself quite fortunate when, while working as an "Ides" extra at the Power Center on Tuesday, she landed in a seat only a few feet away from Clooney.
"We'd been sitting there for maybe a half hour or so … when we saw George walk onto the stage, wearing jeans and a brown leather jacket, looking all cool and movie star-ish," said Riddle-Myers. "He waved and said, 'Hey, guys' which got a huge cheer from the audience. Then he left and got into costume, into this beautiful suit, and he was on stage pretty much the rest of day."
In "Ides," Clooney — who's also directing and co-wrote the screenplay — plays a Howard Dean-like presidential candidate whose press spokesman (Gosling) gets embroiled in scandal and dirty, back-room politics.
And while hundreds of extras at the Power Center on Tuesday cheered for Clooney's character, on cue, when the cameras were rolling, Clooney also heard a lot from the crowd in between takes, including the usual "That's what she said" jokes, and a question about whether he would have a nude scene in the film.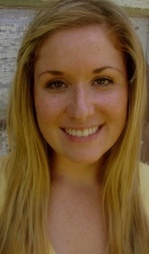 "Nothing fazed him," said Riddle-Myers. " … Someone yelled, 'You're cuter than Brad,' and he said, 'I'm going to tell him that.'"
During some lags between takes, Clooney took it upon himself to entertain the crowd, holding his iPod up to the podium mic and playing songs by Ella Fitzgerald and Sammy Davis Jr. — sometimes singing along, sometimes joking with members of the gospel choir that were also on stage. (The "Ides" scene shot that day aimed to depict a Democratic candidate's rally at Kent State University.)
Clooney reportedly exuded this kind of easygoing, self-assured calm on set throughout the week.
"He's playing a dual role as director and actor, so he'll be in front of the camera acting, and then he'll go back and look at footage, deciding what to keep and print, and what to do again, so he's busy, but he was probably the friendliest of all the film professionals we've had working on the campus," said Doyle. "He's been wonderful with the students, he jokes around with everybody, and he keeps the mood of set lighthearted, despite having this big presence."
"He's exactly as you'd imagine him to be," said Riddle-Myers. "Handsome, funny, together — he's not an awkward actor, and he's incredibly in control of his environment. … At first it was weird (to be a few feet away from him). He's such a public figure, that you're like, 'Holy cow, he's not on TV, he's standing right there.'"
Clooney began the week shooting scenes in U-M's Arthur Miller Theatre on Monday; the Power Center on Tuesday and Wednesday; and the Michigan League Ballroom on Thursday.
Of course, Clooney could have found theaters and auditoriums anywhere, including in "Ides"' primary shooting locales: the areas surrounding Detroit and Cincinnati. What was the appeal of U-M's venues?
"I think it's the variety of looks," said Doyle. "One very modern, black-box theater space, that being the Arthur Miller Theatre; the large, more imposing Power Center; and then the very traditional looking ballroom at the League. … These places are supposed to look like they're part of a traveling campaign, but they're all located very close together, so it's easy for (the production team) to transport equipment from one place to another."
According to Doyle, the Ann Arbor leg of the "Ides" shoot went smoothly enough to put the team ahead of schedule at times.
And while Ann Arbor's Talia Akiva — a 9-year-old Eberwhite Elementary student selected to play Clooney's daughter in the film — expected to shoot scenes on Tuesday, Wednesday and Thursday, she ended up back in her third-grade class on Wednesday; and one of the scenes she expected to be part of — in which she'd sleep on Clooney's lap in a car while he spoke to his wife (played by Jennifer Ehle) on the phone — seemed to be edited out.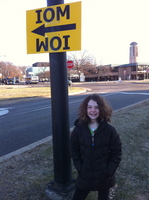 Photo provided by Rachel Akiva
Yet Akiva was part of two scenes filmed on Tuesday at the Power Center: she stood on stage while Clooney gave a speech, with Ehle standing behind her; and she played tic tac toe in a hallway with Ehle and co-star
Evan Rachel Wood
. On Thursday, at the Michigan League Ballroom, Akiva was part of a scene in which a politician, played by
Jeffrey Wright
, endorses Clooney's character.
"They did the speech a million times, and (Talia) stood there forever," said Rachel Akiva, Talia's mother. "But in between takes, Ryan and George talked to her, and they really are just the sweetest people. She got to hang out a bit more with people (on Thursday), and it was just wonderful. She was treated like a princess."
Did Talia ever get to try speaking a line?
"No," said Rachel Akiva. "They just wanted a girl who laughed and looked cute, which is what we'd assumed. … And she had a wonderful time."
While working on Tuesday and Thursday, Talia had her own trailer, where she waited between scenes; and she and her mother were accompanied by an escort.
"Someone would come over and say, 'Are you hungry? Would you like something to eat?' and one time, Talia said, 'Maybe some popcorn,'" said Rachel Akiva. "So the person said something about popcorn into a headset, and then minutes later, popcorn appeared. I was like, 'Huh, a girl could get used to this.' It was just surreal. Surreal has been the word of the week."
Rachel and Talia had joked about how they'd have to return to the real world on Friday; but after having spent two 8-10 hour days on a movie set, a good, long rest was the first order of business.
"Talia just wants to go home and take a nap, which is something she rarely says," said Rachel Akiva, shortly after filming wrapped at 4 p.m. on Thursday. "We're exhausted, but in a good way. … It's a long day, but it doesn't feel like that until the end, because it's so exciting and so fun while it's all happening."
Jenn McKee is the entertainment digital journalist for AnnArbor.com. Reach her at jennmckee@annarbor.com or 734-623-2546, and follow her on Twitter @jennmckee.