Posted on
Thu, Dec 6, 2012 : 8:38 a.m.
Gerald Ford, Willis Ward U-M football documentary 'Black and Blue' to air on TV
By AnnArbor.com Staff
The Emmy-nominated documentary "Black and Blue: The Story of Gerald Ford, Willis Ward and the 1934 Michigan-Georgia Tech Football Game" will air at 1 p.m. Saturday, Dec. 8, on WXYZ-TV in Detroit. This is the first time the acclaimed film has aired on TV in southeast Michigan.
The film, produced by Stunt3 Multimedia and filmmakers Brian Kruger of Grosse Pointe and Buddy Moorehouse of Gregory, tells the story of the 1934 Michigan-Georgia Tech football game. In those days, teams from the South refused to play against any team that had an African-American on the roster.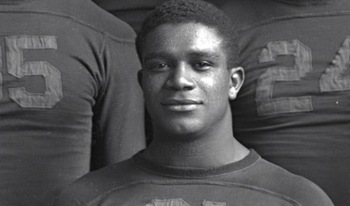 Photo courtesy of Buddy Moorehouse
That created a problem when Georgia Tech came to Ann Arbor on Oct. 20, 1934, because Michigan's best player was an African-American from Detroit named
Willis Ward
. The Yellow Jackets said they wouldn't play the game if Ward was allowed to play, so Michigan agreed to keep him off the field—marking the one and only time in school history that a player was benched because of his race.
The decision to bench Willis Ward infuriated his teammates, especially his best friend on the team, lineman and future U.S. President Gerald Ford. Ford quit the team in protest, and eventually agreed to play only after Ward personally asked him to. The incident had a profound impact on Ford, though, shaping his opinions on civil rights and equality later in life as he moved from Congress to the White House. As the documentary points out, Ward and Ford remained lifelong friends.
The documentary, which earned an Emmy nomination in the category of best historical documentary, has received widespread acclaim since its release late last year, and has led to a renewed interest in Ward's amazing life story. Last month, the Michigan State Senate unanimously voted to declare Oct. 20, 2012, as "Willis Ward Day" in the state of Michigan.
Check out an article on the documentary here.
A DVD of the film can be ordered at stunt3.com.