Posted on
Wed, Apr 10, 2013 : 10:29 a.m.
Get antiques appraised at fundraiser for Kempf House Museum
By Ann Dwyer
We all have that item in our house. Maybe it was handed down from your grandparents, or maybe you picked it up cheap at a garage sale. But you have a nagging suspicion it might be worth something. Find out once and for all at the Antiques Appraisal Day Fundraiser at Kempf House Museum on Sunday.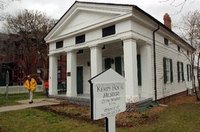 Chuck Schmidt of Schmidt's Antiques will offer up to two verbal appraisals of your antiques for $20; additional items will be appraised for $5 each. They ask that you do not bring jewelry.
Curious about a large dresser or other unwieldy item? Bring detailed photos only.
All proceeds will benefit the Kempf House Museum.
Sunday, April 14, 2013. 2-4 p.m. $20. Payment by cash or check only. The Kempf House Museum is located at 312 S. Division St., Ann Arbor. 734-994-4898.