calendar of events
best Bets :

Get Dexter Daze-d or mingle with the Purple Rose stars

Posted on Thu, Aug 9, 2012 : 10:08 a.m.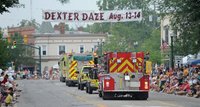 AnnArbor.com file photo
FESTIVAL
The 40th annual Dexter Daze summer festival returns to Dexter Friday and Saturday. 9 a.m.-11 p.m. There will be great entertainment, food and garage sales in downtown Dexter. Food for sale; entry for social tent. For information and a complete schedule visit www.DexterDaze.org. On Main Street in downtown Dexter.
MUSIC
The AnnArbor.com Summer Concert Series on Friday will feature Lisa Pappas and Michael Weiss. Noon-1 p.m. Bring your lunch and enjoy the sounds of summer. Pappas is a Michigan born-and-bred Performing Songriter. She is inspired by such artists as Bonnie Raitt, Patty Griffin and the Indigo Girls. Free. On the patio on the corner of South Fifth Avenue and East Liberty Street in downtown Ann Arbor.
MUSIC
The 2012 Crossroads Music Festival in downtown Ypsilanti continues Friday. In the Library Plaza, 6 p.m.: Shout It Out! at the LIbrary Plaza at 6 p.m. A collage of musical and spoken word performances by teens/for teens. (229 W. Michigan Ave. 734-482-4110. Event held inside in case of rain). At the main Crossroads Festival site, 7 p.m.: First Class Band, then the Lady Sunshine X Band. On North Washington, between Pearl and Michigan Ave. Get more information at www.ypsicrossroads.org/.
PETS
The "Annual Pet Fest" returns to the Washtenaw Farm Council Grounds on Saturday and Sunday. 10 a.m.-6 p.m. Pet Fest is the largest pet festival in southeastern Michigan with an annual attendance of nearly 5,000 passionate pet owners. The goal is to help local rescue groups and shelters find homes for foster pets and to offer a venue to artisans, service providers and vendors. $5/ adults; children under 10 get in free. Free parking. The WFCG is at 5055 Ann Arbor-Saline Road, Ann Arbor. 734-429-3145.
FUNDRAISER
The Purple Rose Theatre Company will hold a "Backyard BBQ Fundraiser" on Saturday. For $60, guests can attend the BBQ and silent auction from 5-7:45 p.m. For $100, guests can attend the BBQ, silent auction, and also receive a ticket for the 8 p.m. performance of On Golden Pond, followed by a dessert and coffee reception. Get tickets and information at www.purplerosetheatre.org/. The Theater is at 137 Park St., Chelsea. 734-433-7673.
MUSIC
Candye Kane will bring her brassy blues act the Ark on Saturday. 8 p.m. Her shows are part humor, part revival meeting and part sexuality celebration. She'll deliver a barrelhouse-tongue-in-cheek blues tune or gospel ballad. $15. The Ark is at 316 S. Main St., Ann Arbor. 734-761-1800.