Posted on
Thu, Nov 29, 2012 : 10:33 a.m.
Midnight Madness, festivals, parades and more keep holiday season rolling this weekend
By Jennifer Eberbach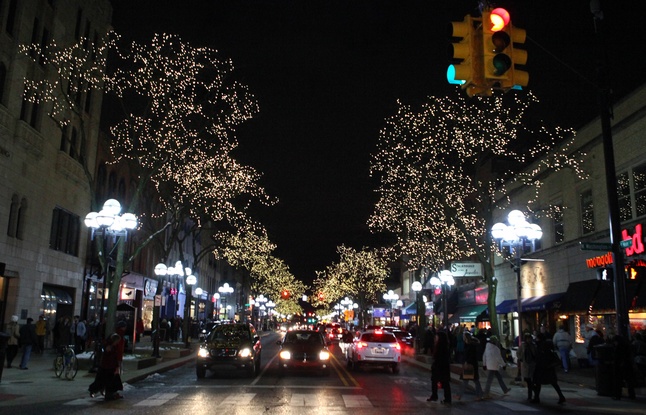 Jeff Sainlar | AnnArbor.com file photo
Holiday and Christmas-themed festivals, parades, shopping opportunities, and other events are happening all over Washtenaw County this weekend. Here are some of the major events that will get your into the holiday spirit Friday, Saturday, and Sunday; for even more, see the links at the end of this post.
FRIDAY
Friday, Nov. 30 brings big shopping opportunities to downtown Ann Arbor. Local shops in Kerrytown Market, on Main Street, and around downtown will have "Midnight Madness" sales. And special wintertime-themed happenings will contribute to a festive atmosphere downtown.
Midnight Madness in Kerrytown Market, from 10 a.m. to midnight, will feature one-day-only sales at the various businesses located inside the shopping complex. Outside, Kerrytown's Annual KindleFest will line up artisans, farmers, and food vendors around the outdoor Farmers Market from 6 p.m. to 10 p.m. Both are occasions to buy your holiday gifts locally.
The Kerrytown Kindlefest will also include two special events to get shoppers in the holiday spirit. A Children's Lantern Parade will march from 7 p.m. to 7:30 p.m. and anyone is invited to join in. Meet up is at 6:30 p.m. If you already have a lantern, bring it. Otherwise, you can purchase one for $10 at the Farmers Market. For the grown-ups, Everyday Wines in Kerrytown Market will host a KindleFest Wine Tasting, from 7 p.m. to 9 p.m.
The shopping madness continues on Main Street. Local shops will stay open late for the Main Street Area Association's annual Midnight Madness. Santa Claus and Miss Washtenaw County will greet shoppers from 7 p.m. to 9 p.m. View a list of participating businesses and the their special "Midnight Madness" offers. Shops off of Main Street are also planning special events for "Midnight Madness" such as 826Michigan's Robot Supply and Repair, on Liberty, which is featuring their "BotChoir." Robots will sing holiday carols every hour beginning at 7 p.m. Bill's Beer Garden will be open until midnight as part of its final weekend for the season.
Also at Midnight Madness on Main Street, sidewalk entertainment, from 7 p.m. to 9 p.m. will include performances by the Center Stage Quartet, Elvis impersonator Chris Solano, University of Michigan break dancing group Element One, Performance Network, musician Melissa Bruzzano, Huron High School's A Capella Choir, and the UM Women's Glee Club.
You can do your shopping spree in Ypsilanti on Nov. 30. Ypsi's annual Starlight Spree keeps downtown shops open late for some midnight madness. The "Downtown Tree Lighting" at the Ypsilanti District Library, at 6 p.m., comes with cocoa, cookies, carolers, and a visit from Santa.
Friday also marks the beginning of Chelsea's annual Hometown Holidays festival, which happens across town Nov. 30 through Dec. 2. Holiday activities, entertainment, and sales at local shops and businesses are plentiful during Hometown Holidays. View a complete list of the many events and offerings connected to the festival. Activities include a tree lighting at Pierce Park on Friday, from 6 p.m. to 6:30 p.m., followed by "Santa's Workshop" at the Chelsea Depot until 8:30 p.m.
Saturday, Dec. 1 in Chelsea will feature a whole new set of activities, including "All the Trimmings Artisans Holiday Show," from 10 a.m. to 4 p.m. at the Chelsea Fairgrounds. That evening, the Annual Chelsea Light Parade will commence along Main Street at 6 p.m. Floats, vehicles, marching bands—it is sure to be a spectacle. And Sunday, Dec. 2, Hometown Holidays will feature even more special events, including Christmas on the (Waterloo) Farm, from noon to 4 p.m. Tour the farmhouse, log house, outbuildings, and one room school. Gifts will also be for sale - greens, baked goods, and gifts.
SATURDAY-SUNDAY
Saturday, Dec. 1 marks the occasion of two big holiday parades in Washtenaw County. Saline's annual Holiday Parade will fill the streets with cheer, from 5:30 p.m. to 7 p.m., with "bands, twirlers, unicyclists, animals, and professional-level entertainment of all kinds," according to the event's announcement. After the parade, "Santa's Village" will be open at Stone Arch Arts and Events, from 6:45 p.m. to 8 p.m. And also at Stone Arch, the Saline Area Players are performing "The Best Christmas Pageant Ever," at various times all weekend long.
In Milan, the annual Milan Area Chamber Christmas Parade happens from 6 p.m. to 8:30 p.m. on Dec. 1. Kicking off on East Main Street and moving west, the parade will feature costumes, floats, music, animals, a hot air balloon, and Santa riding in on the "Boogie Woogie Choo Choo train," according to the event's announcement. At the end of the parade, Santa will be presented with a key to the city at the Old Fire Barn.
A special treat in Manchester, visit five homes brilliantly decorated for Christmas at various locations around the village, from noon to 8 p.m., on Dec. 1. This year's Manchester Christmas Home Tour will also include the opening of the Emanuel Church parsonage, which will display historical artifacts.
The Ann Arbor City Club hosts its 29th annual Arts & Crafts Festival, on Dec. 1 from 9 a.m. to 4 p.m. The juried arts and crafts market features many local and Michigan artists and artisans, along with people from out-of-state, and it also includes authors selling written works, a greens market, and more. Some of the gifts you will find there—for loved ones or just for yourself—"photography, jewelry, nature crafts, wood working, watercolors, soaps & creams, textiles and fabric art," according to the event's announcement.
Ann Arbor Potters' Guild kick off a two-day shopping event. Their Potters Guild Holiday Sale will be held under a heated tent 201 Hill Street in Ann Arbor, from 10 a.m. to 5 p.m. on Dec. 1 and Dec. 2. One of the highlights of the event, more than 40 guild artists have made ornaments for the sale.
In another two-day event, the Dexter Area Historical Society & Museum is holding Christmas at the Mansion, from noon to 6 p.m. Dec. 1 and 2. See how the historical society decorates Gorden Hall for Christmas—including an antique sleigh.
On Dec. 1, visit the museum at the Dexter Area Historical Society & Museum for a Christmas Holiday Bazaar, from 9 a.m. to 3 p.m, hosted by the Dexter Heritage Guild. A wide variety of gift will be for sale, including antique linens, colorful knitted scarves, headbands and mittens, holiday ornaments, and baked goods, according to the event's announcement.
An annual tradition for many, Handel's "Messiah" will be performed by the UMS Choral Union and the Ann Arbor Symphony Orchestra, at Hill Auditorium in Ann Arbor, at 8 p.m. Saturday and 2 p.m. Sunday.
More holiday events and special shopping offerings happen around the county on Sunday, Dec. 2. Ann Arbor Artists' Collective will host their 14th annual Gift-Fest, at Pittsfield Union Grange, from 10 a.m. to 4 p.m. All kinds of art and crafts by local artists will be for sale.
This list of holiday events is just the tip of the iceberg of happenings in Washtenaw County this weekend. Visit AnnArbor.com's Events Calendar for more to do or check out these links:
THE BEST OF THE REST
Don't forget to drop your Christmas wish list in Santa's Mailbox outside Schakolad Chocolate Factory.
Students, faculty, and staff come together to enact medieval Christmas traditions at the Boar's Head Festival at Concordia University.
Shop at the Holiday Goodie & Craft Sale at Marble Memorial United Methodist Church in Milan.
There will be a Holiday Shoppe & Gingerbread Cafe at St. Matthews United Methodist Church in Ypsilanti.
Plus, a Holiday Sale and Craft Show at Calvary Christian Academy in Ypsilanti.
Enjoy Holiday Music with Washtenaw Community Concert Band, plus special storytime at Barnes & Noble
It's time for the Annual Downtown Home & Garden Christmas Party.
Find more at the AAWA 3rd Annual Holiday Arts & Crafts Show at Polo Fields - Washtenaw in Ypsilanti.
Take in Christmas on the Farm and Dewey School at the Waterloo Farm Museum.
Book lovers on your list? Then head to the AADL Friends Book Shop's Holiday Fair! at the Ann Arbor District Library, Downtown Branch.
St. Mary's Church in Pinckney will hold their "Annual Christmas Bazaar."
Sign up for a Holiday Candy Workshop at Ann Arbor Cooks.
Take in a A German Family Christmas at the Kempf House Museum.
Watch classic films at the Free Holiday Classic Film Series at the Michigan Theater.
The Ypsilanti Area Dancers will present The Nutcracker at the Ypsilanti High School Auditorium.
Runners take your mark at the Running Fit's Holiday Hustle 5K & 1 Mile at Monument Park.
St. Mary's Catholic Parish in Dexter will hold their Annual Community Christmas Breakfast.
There will be a Christmas Organ Concert and Sing-A-Long at St. Stephen's Episcopal Church in Hamburg.
The little ones can make Kids' Holiday Gifts From The Kitchen at Ann Arbor Cooks.
Take in the Fiddlers ReStrung Annual Holiday Hometown Concert at the Ellen Ewing Performing Arts Center of Saline High School.