Posted on
Thu, Mar 28, 2013 : 10:59 a.m.
Get ready for FoolMoon at the Workantile Exchange
By Ann Dwyer
This is the year. This is the year you're going to have the best luminary sculpture in Ann Arbor. This is the year that you won't be walking empty-handed in the FoolMoon parade. Not like last year.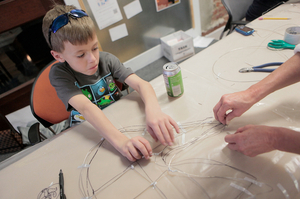 Well, you better take the opportunity to get some help and inspiration at the
FoolMoon Luminary Workshops
at Workantile Exchange on Sunday. It's your last chance to get in on this opportunity.
"These popular Make your Own Luminary Workshops are led by several of the regions most talented public art artists," according to the press release. So even the most unsure hand will walk away with a sculpture they can proudly parade around the streets of Ann Arbor.
FoolMoon will be held on Friday, April 5 from dusk to midnight and FestiFools will be held Sunday, April 7 from 4-5 p.m. this year. (Watch AnnArbor.com on Monday for a preview article.)
The final luminary workshop is Sunday, March 31, 2013. 10 a.m. to 5 p.m. Suggested donation: $10. The Workantile Exchange is located at 118 S. Main St., Ann Arbor. 734-763-7550.