Posted on
Thu, May 16, 2013 : 10:59 a.m.
Get up close and personal with the beautiful at the Butterfly Festival
By Ann Dwyer
'Tis spring. The buds are blooming. The birds are singing. And the butterfly pupa are emerging from their chrysalides. Learn more about the fascinating process—and get to see the beautiful, fragile creatures up close—at the Butterfly Festival at the University of Michigan Museum of Natural History.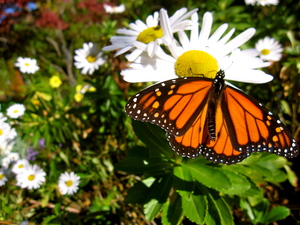 Peggy Lampman |Contributor
See live Monarch beauties in the butterfly sanctuary, and take an up close and personal look at how they travel through each stage of their life cycle. Look through the microscopes to see what butterfly and moth wings are really made of (it's neat and freaky), and metamorphose into a butterfly by making wings of your own. There are opportunities to look at the life cycles of other animals, too.
Help feed a butterfly! Help plant new perennials in the butterfly garden (weather permitting)!
Saturday, May 18, 2013. 10 a.m.-2 p.m. Free. The UMMNH is located at 1109 Geddes Ave., Ann Arbor. 734-764-0478.