Posted on
Thu, Apr 25, 2013 : 10:19 a.m.
Get your garden ready with the help of Growing Hope's Spring Plant Sale
By Ann Dwyer
You're going to need gardening supplies and plants, so why not help a great cause at the same time? When you purchase these materials from the Growing Hope's Spring Plant Sale, the money you spend support Growing Hope's work to increase healthy food access in Ypsilanti and surrounding communities.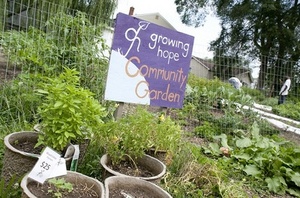 You'll find seedlings, edible container gardens, and gardening supplies including raised bed and season extension kits, soil, compost and more. They will have two other sales on Friday, May 10 from 2-8 p.m. and Sunday, May 19 from 11 a.m.-5 p.m.
Growing Hope is a community outreach program that strives to get people eating better by growing their own food or making that food available. They offer memberships, classes, workshops, a community garden and youth outreach programs.
Saturday, April 27, 2013. 10 a.m.-5 p.m. No admission charge; price of purchases. Growing Hope is located at 922 W. Michigan Ave., Ypsilanti. 734-786-8401 Get more information at www.growinghope.net or 734-786-8401.