Posted on
Mon, Apr 15, 2013 : 7:06 a.m.
'Give and Take' author (and U-M grad) Adam Grant to speak in Ann Arbor
By Jenn McKee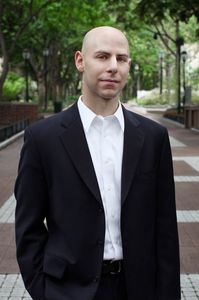 Adam Grant
, the youngest tenured professor at Penn's prestigious Wharton School, has just published a business book,
"Give and Take,"
that's getting a ton of buzz. (We're talking
New York Times Magazine cover story
and
"The Diane Rehm Show"
level of buzz.) Plus, he's already earned superstar status as a teacher, a go-to consultant, and a scholar.
But even so, Grant, a West Bloomfield native who earned his graduate degrees at the University of Michigan, hasn't forgotten his roots.
When asked if he planned to watch U-M's basketball team compete in the NCAA championship game, he said, "Are you kidding? Of course! … I've tailgated with my family before Michigan football games since I was 5 years old."
Grant will return to his old stomping grounds on Thursday, April 18, to talk about "Give and Take," which sorts people into three categories (givers, matchers, and takers) and explores how and why givers—those who generally help those they come into contact with, with no expectations for "payback"—end up at the extreme ends of the success spectrum: they're usually either at the very top, or the very bottom.
And while Grant himself finds it hard to say "no" when asked for help, he maintains that this wasn't the primary motivator for his research.
"That would be more me-search than research," Grant said. "Yes, in this field, personal experience can sometimes lead one to questions; but I was also struck by examples I'd seen in the workplace—others I found inspiring, who managed to give first and succeed later. So I grew curious about that."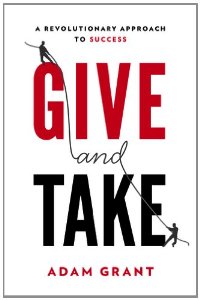 Grant hopes to draw a general audience—not just business- and psychology-oriented professionals—to "Give and Take," and the March 31
New York Times Magazine cover story
focused on Grant and his book may go a long way toward making that happen. (Grant reports that he received thousands of emails after the piece ran.)
Interestingly, though, the article featured a series of comical photographs in a workplace setting, starring Comedy Central duo Keegan-Michael Key (a Detroit native) and Jordan Peele, and absolutely no image of Grant himself.
"That was (the magazine editors') call," said Grant. "I was glad they chose not to use photograph of me in the story. The goal was to share the idea, not make it about me."
Photos notwithstanding, though, the story ultimately did focus on Grant, and a short section—in which the writer raised the question of work/life balance, and hinted that perhaps Grant is able be a "giver" at work because his wife manages the family's home life—has gotten the lion's share of attention so far.
PREVIEW
"Give and Take" book discussion with author/professor Adam Grant
What: Grant, a U-M alumnus and the youngest professor to ever earn tenure at Penn's prestigious Wharton School of business, will talk about his new book, which focuses on how and why some "givers" are among the most successful people in the business world.
Where: U-M's Ross School of Business (Colloquium, 6th floor), at 701 Tappan St. in Ann Arbor.
When: Thursday, April 18 at 6 p.m.
How much: Free.
"I think that's the part about which there have been the most misconceptions, among the comments I've received," said Grant. "I feel like I'm very clear in my priorities: home life first, students second, and my colleagues third, and I honestly don't feel like I have to make tradeoffs often, because I block off clear windows of time. I'm either working, or I'm with my family, or I'm teaching. … The book is about success at work, and speaking more broadly, there's already a lot of books out there about work/life balance. … I don't believe that when you write a book on one topic, you're obligated to cover all the others that are out there, too."
Gender disparity at the upper echelons of business, for example, may initially appear to be the reason why more men are anecdotally featured in "Give and Take"; but Grant wonders if something else is actually in play.
"I think it's more that, … I'd ask the people I talked to if they know anybody else who fits the bill, … and it seems to surprise people more, and grab their attention, when men give," said Grant. "Most of us hold these expectations and stereotypes about women - that they'll naturally be more generous and helpful - while there's more of a sense of 'Hey, wait a minute' when man does it."
But these questions and more can be explored further when Grant returns to Ann Arbor.
"Ann Arbor is my favorite place, of all the places I've lived," said Grant.
Jenn McKee is an entertainment reporter for AnnArbor.com. Reach her at jennmckee@annarbor.com or 734-623-2546, and follow her on Twitter @jennmckee.