Posted on
Tue, Sep 11, 2012 : 5:54 a.m.
Now a solo act, Glen Hansard bringing new music to Michigan Theater with Iron and Wine
By Will Stewart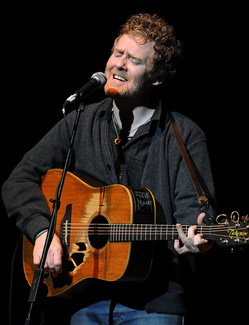 Lon Horwedel | AnnArbor.com
During the course of his career,
Glen Hansard
has seldom not been in control.
Whether fronting Ireland's beloved rockers, The Frames, or dueting with Marketa Irglova in The Swell Season, Hansard has had his hand firmly on the musical rudder.
So how, then, does the release of Hansard's first official solo album, "Rhythm and Repose," differ from the singer-songwriter's previous efforts?
"There comes a point in your life where you have to sort of own your own art," Hansard recently told Exclaim.ca. "You just have to own it.
"And as much as the Frames or the Swell Season (are) an identity, when you call something your own name, it really, truly calls it into your own space."
Hansard and Iron and Wine—essentially singer-songwriter Samuel Beam—co-headline a show together at the Michigan Theater on Sept. 15.
Not surprisingly for the workaholic Hansard, the making of "Rhythm and Repose" came while Hansard was holed up in a Greenwich Village apartment, supposedly taking a year off from work.
PREVIEW
Glen Hansard; Iron and Wine
Who: Former leader of the Frames and Swell Season; singer-songwriter Samuel Beam.
What: Double bill of introspective singer-songwriters.
Where: Michigan Theater, 603 E. Liberty St.
When: 8 p.m. Saturday, Sept. 15.
How much: $35-$40. Tickets are available from Ticketmaster.com.
He tried getting up late. He tried riding his bicycle around the city. He'd go out for coffee.
But his guitar kept calling his name and, like usual, the songs started coming out.
" I always work," he said. "I'll take time off and just keep working, which is kind of what I did."
Hansard hooked up with his friend Thomas Bartlett and started working through some of the new tunes during loose jam sessions at a neighborhood pub. Before he knew it, sessions were booked and tracks found their way onto tape.
Suddenly, Hansard was looking at a new record. But whose record would it be?
"It just seemed natural that it would be a Glen Hansard record, to further confuse my manager" he told Exclaim. "He's like, Okay, what is it called? The Frames? What are you called?'
"So now I've got a different name again."
Despite being the driving musical force in the Frames and the Swell Season, Hansard said that, even though he didn't realize it at the time, he needed to get away from the notion of working in musical partnerships.
Even though it came about as the result of a "working" vacation, Hansard said "Rhythm and Repose" is about the notion that one needs to slow down in order to really hear the music that's inside of oneself.
Of course, Hansard isn't terrific at taking his own advice. He's off on tour again, sharing with audiences his love of music and belief in the power of song. But at the same time, he's trying to remember to slow down now and again.