Posted on
Mon, May 13, 2013 : 5:51 a.m.
Grant-Lee Phillips exploring Native American heritage in latest album, Ark show
By Kevin Ransom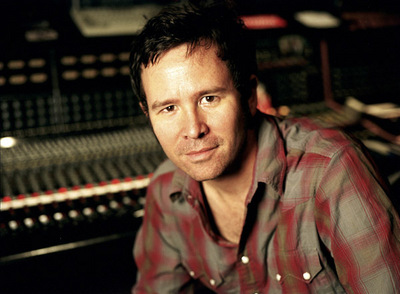 Grant-Lee Phillips
has often explored the themes of history and legend in his songs. "But sometimes, I don't have to look quite so far to find inspiration," says Phillips.
In this case, Phillips is referring to his Native American heritage, and to his latest album, "Walking in the Green Corn," released last autumn. On that disc, Phillips explores that heritage, as well as Native American history, culture, lore and beliefs.
"My songs are always a document of where I'm at in my life at a given time - where my heart and mind is being pulled," says Phillips, who comes to The Ark on Friday. "I grew up with an awareness of my heritage, but in recent years I've been increasingly fascinated with Native culture and what that means today. There are a number of Native American artists who make films, music, and write, and I can't help but feel a kindred sensibility."
Phillips has Native American and European heritage on both sides of his family. "My great-grandmother, on my mom's side, was full blooded Creek," says Phillips in an e-mail interview from a tour stop in Norway. "She died before I was born, but I knew her sister, my aunt. She was the last of the full-bloods in my family.
"There's also a lot of Cherokee on my dad's side, so when you put it all together, I'm nearly as Native as I am of European descent. The Creek and Cherokee people coupled with Scottish and German immigrants hundreds of years ago. The mixing of blood, cultures - that's the American story."
PREVIEW
Grant-Lee Phillips
Who: Singer-songwriter who was the leader of the alternative-roots-rock band Grant Lee Buffalo in the 1990s, and has released seven solo albums since that band split up in '98.
What: Phillips' latest disc, "Walking in the Green Corn," released last fall, is a subtle, muted acoustic-folk album that explores his Native American heritage, as well as Native history, culture, lore and beliefs.
Where: The Ark, 316 S. Main St., Ann Arbor.
When: Friday, May 17, 8 p.m.
How much: $15. Tickets available from The Ark box office (with no service charge); Michigan Union Ticket Office, 530 S. State St.; or online from MUTO.
Phillips has released seven solo albums since breaking up his alternative-roots-rock band, Grant Lee Buffalo, in the late 1990s. And he's written about his Native heritage a few times before now. One song, "Were You There," appeared on the anthology "Storm Hymnal: Gems from the Vault of Grant Lee Buffalo," in 2001.
"That was one of the earlier songs that I wrote regarding Native American history," says Phillips—it addresses "the tragic story of Wounded Knee." Another one, "The Last Days of Tecumseh," was on that band's second album, "Mighty Joe Moon," in 1994. Meanwhile, "Susanna Little," from his 2004 "Virginia Creeper" solo disc, was "a narrative based on the life of my great-grandmother and all that she had to overcome being a full blooded Creek girl growing up in Oklahoma during the early 1900s."
But "Walking in the Green Corn" is the first full album devoted to the subject. "The song 'Buffalo Hearts' came first," says Phillips. "Then 'Thunderbird,' and then the title song soon followed. I just allowed the songs to emerge on their own, but I was certainly drawn to a Native theme."
On the lead-off track, "Vanishing Song," Phillips sings about connecting with the ancestors who came before him, and also laments the destruction of the environment in the pursuit of financial gain. "It's about vanishing ways and an endangered commitment to the health of the planet," he says. "So many of our choices, those of our leaders, seem very short term. We have to begin to think of the longer arc and consider how our actions effect the next generations.
On "Great Horned Owl," Phillips uses the image of that bird—one often associated with "wisdom"—as a symbol for something internal. "It's a love song," says Phillips. "It's about instinct and listening to that quiet part of yourself that sees and hears everything long before your ears and eyes do."
Similar imagery appears on songs like "Thunderbird," "Buffalo Hearts, "Black Horses in the Yellow Sky" and "Silent Arrow."
Phillips wrote and recorded most of the songs in the last few months of 2011. They began as spontaneous home recordings, as Phillips wanted to capture the songs on tape as soon as he could after writing them. He thought he would later put a band together and re-record the songs. But he was struck by the warmth and simplicity of his home "demos." "I often have some inkling of where I want to take things, but with this material, it was clear that this going to be a solo-acoustic album, rather than with a band," he says.
Most of the songs are understated, organic folk songs, with spare acoustic instrumentation—primarily Phillips' acoustic guitar, framed on some songs by the violin and backing vocals of Sara Watkins (formerly of Nickel Creek), and subtle vibraphone by Alexander Burke.
On Phillips' previous album, "Little Moon," in 2009, many of the songs were about the experience of being a new father, and he still had his small daughter in mind when he wrote the songs for "Green Corn." Part of what inspired him to examine his Native heritage, he says, was wanting to be able to tell his daughter where she came from.
"There's a lot of strength that comes with understanding your roots, how they sprawl and intertwine with the generations," says Phillips. "Because Native peoples have been dispersed and disrupted throughout history, it is with tenacity that a sense of identity remains. Some people even think of Native Americans as having vanished, but this is far, far from the truth. I wanted to share that with my daughter."
Kevin Ransom is a free-lance writer who covers music for AnnArbor.com. He can be reached at KevinRansom10@aol.com.