Posted on
Thu, Aug 19, 2010 : 5:04 a.m.
Northern Italian-inspired fare at Gratzi continues to delight diners
By Julie Halpert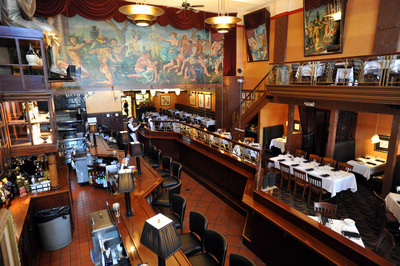 There are certain Ann Arbor restaurants that remain as skilled at delivering savory meals as they have been for years. Gratzi, which quickly earned a positive reputation for high-quality upscale dining when it opened 23 years ago, is one of those places.
It's still a fun place to visit with a festive, bustling bistro atmosphere. Its trademark 40-foot-long by 10-foot-high mural combining the work of Italian Renaissance painters is a perfect backdrop for the assortment of interesting dishes inspired by Northern Italian influences. Kevin Gudejko, director of operations for Mainstreet Ventures, the company that owns Gratzi, says the fine dining Italian food and the warm, rich setting has made it a destination for many first dates, wedding proposals and anniversary celebrations.
Gratzi's menu lists the dishes in Italian, followed by English translations. For the uninitiated, in addition to Italian pastas, Gratzi offers salads, soups, meat, fish and seafood. There's also a gluten-free menu. What I most appreciate here are the fresh ingredients and the mix of spices and sauces, characteristics of all the dishes we ordered.
That applies to the calamari fritti — the spongy squid were bathed in saffron aioli and dusted with a light, subtle coating. We order the ravioli con salsa di noci (butternut squash and walnut ravioli) faithfully every time we dine here, and it remains one of Gratzi's best offerings. That light cream sauce laced with sherry is a perfect complement to the tender pieces of pasta, as is the fresh spinach and Swiss chard.
The restaurant accommodated my dining companion's request for light dressing on the Caesar salad, a topping that was flavorful and quite good. The Caesar was wonderful, a much better choice than the insalata mista delia casa, mixed greens with tomatoes and shaved parmesan cheese. Though it was tossed in white balsamic vinaigrette, I could only decipher the olive oil in the dressing, making it bland.
RESTAURANT REVIEW
Gratzi
326 South Main Street
734-663-6387
For reservations, call: 888-456-DINE
Gratzi in AnnArbor.com restaurants guide
Hours: Monday through Thursday, 11:30 a.m.-10 p.m.; Friday and Saturday, 11:30 a.m.-11 p.m.; Sunday, 4 p.m.-9 p.m.
Plastic: Visa, Mastercard, American Express.
Liquor: Yes.
Prices: Expensive. Many entrees are in the $25.00 range and are served a la carte.
Value: Very good.
Noise Level: Loud.
Wheelchair access: For the main floor dining.
I could have been satisfied by appetizers and soup alone after sampling the hearty, healthy minestrone. The server delivered a bowl with pasta and pesto, then poured the vegetable and steaming hot broth over it. This was one of the standouts.
Gratzi clearly has mastered the art of the sauce in its entrees. That applies to the heavenly garlic cream sauce drizzled over the North Atlantic salmon. Combined with a perfect piece of fresh fish, spinach and gnocchi that tasted homemade, this was an outstanding offering.
And the white wine and demi-glace was the ideal topping for the veal scaloppini. Like so many dishes here, this was a marriage of beautifully melded tender meat, pasta and vegetables, with a mix of forest mushrooms and puffy pillows of ricotta-filled mezzaluna pasta. The risotto di pollo e spinaci wove together Amish chicken, baby spinach, white wine, leeks, parsley and butter in a chicken stock, resulting in a risotto dish so dense and delightful that I deliberately saved some, eager for the next day's leftovers. We did encounter some shortcomings. Among them were the code di scampi tirena, where shrimp, pancetta and butter pan sauce didn't work well together, and I could barely detect the brandy flavoring advertised on the menu. Sauteed asparagus (vegetables are ordered a la carte here) was limp and suffered from a lack of seasoning. I barely touched it. The margherita pizza was bland and uninteresting.
Gratzi used to direct diners next door to La Dolce Vita for dessert, but now they offer their own — and they held up to the restaurant's high standards. Both the cannoli and the tiramisu were outstanding, served in enormous portions with rich creamy ingredients that four of us could easily split (and devoured).
Servers continue to treat diners like they're VIPs here, though we were a bit surprised when our server corrected my dining companion when she ordered "soup," instead of "zuppe," the Italian word listed on the menu. Still, after this minor lapse, he delivered, with a knowledgeable grasp of the menu and cordial, prompt service.
The many dishes that Gratzi does well merit its continued fine reputation, and it remains a smart destination for upscale dining.
Julie Halpert reviews restaurants for AnnArbor.com.