Posted on
Thu, Apr 11, 2013 : 10:30 a.m.
Great Big Sea washes ashore Tuesday for 20th anniversary show at the Michigan Theater
By Roger LeLievre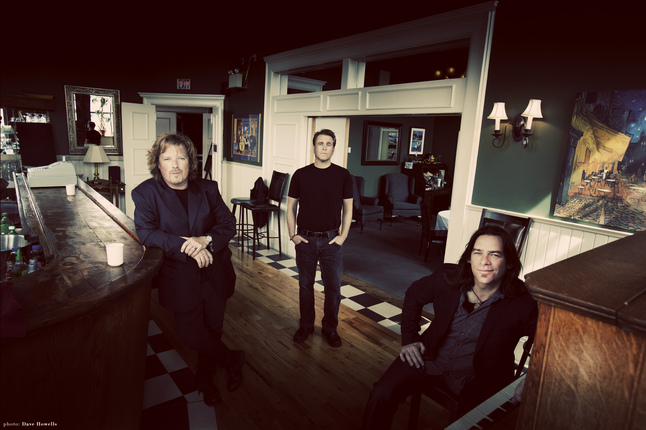 There aren't many bands that have lasted as long as the musical tsunami known as
Great Big Sea
, marking its 20th anniversary with a tour that brings the rambunctious Newfoundland lads back to Ann Arbor Tuesday night.
The foursome will play plenty of old favorites as well as some new tunes at an Ark-sponsored concert at the Michigan Theater. Anyone who has seen Great Big Sea live knows to expect a high-energy performance and an equally fired-up crowd that's on its feet for most of the show. And—trust me—they know every word of every song, even the new ones.
"We've prided ourselves from day one on giving people a great night out," frontman Alan Doyle explained recently. "That's what music started for me as a little kid—music was a great night out at home, it was a great night out in the pubs. That's never left me. The first and foremost function of a concert is to give people a great night out. That's what I want to do and I want to have one myself."
According to Doyle, the secret of the band's longevity is simple: "We wanted to do it really badly," he said. "There's a big pile of reasons to stop you along the way. You have to have a real honest to God desire to do it the next day. We've always wanted to do this for a living, not just for a weekend."
Although they can act a little goofy on stage, all the members of Great Big Sea are talented multi-instrumentalists, fluent in everything from guitar, fiddle and drums to the accordion, mandolin, Irish whistles, concertina, fiddle and bodhran. They fuse traditional music of Newfoundland with modern pop and rock, playing both Newfoundland standards and original tunes.
PREVIEW
Great Big Sea
Who: Sean McCann, Bob Hallett, Alan Doyle, Kris MacFarlane and Murray Foster.
What: Rowdy Newfoundland-based folk-rock band celebrates its 20th year of combining original music with traditional sounds and instruments.
Where: Michigan Theater, 603 E. Liberty St.
When: 7:30 p.m. Tuesday, April 16.
How much: $25-$50. Info: Call for tickets at 734-763-TKTS. Tickets are available in person at the Michigan Union Ticket Office, at Ticketmaster outlets and at www.ticketmaster.com.
The band traces its origin to 1993, when Doyle, Sean McCann and Bob Hallett started GBS in an attempt to create a new approach to Newfoundland folk music, one that combined their original songs with the traditional sounds and instruments they grew up with. In 2002 and 2003, they added drummer Kris MacFarlane and bass player Murray Foster.
To mark the band's anniversary, Great Big Sea has compiled "XX," a two-disc album that features career highlights (such as "Paddy Murphy," "Old Black Rum," "Consequence Free" and "Ordinary Day") as well as six new songs. For hardcore fans, there's also a second, three-disc, 60-track deluxe box set available.
"It was tougher than we thought," Doyle said of the song selection process. "There were 14-15 obvious choices for each CD, but the last five or six were a bit of a hassle. We kind of had to vote."
None of the songs have been reworked for the CDs, although there a couple of new tunes included, such as "Heart of Hearts," "Born to Believe," "Live This Life" and a cover of the Pete Townshend tune "Let My Love Open the Door," which they have been including in their live sets recently.
"We wanted to give people a bit more than expected, so there's a couple of new folky things and a couple of new original things," said Doyle.
At heart, Doyle added, Great Big Sea is still a rowdy pub band, flying under mainstream radar but attracting crowds to their live shows nonetheless.
"We're kind of punching above our weight all the time," he said. "We're this folk band that's headlining the biggest theaters or club in just about every major city in the U.S. and we're doing ice hockey rinks in Canada. We always felt like we were getting away with something."
Doyle said he and his mates are delighted to be charting a course to Ann Arbor again, and admitted he's lost track of the number of times he's played here, first at The Ark and then the Michigan Theater.
"We've played there a ton. Ann Arbor is one of those places you hope exist—a perfect town, a perfect gig, a perfect audience. Thank God for Ann Arbor," he said.