restaurant review
Great Plains Burger Company: doing one thing, doing it well
Posted on Thu, Nov 19, 2009 : 5:11 a.m.
Great Plains Burger Company, which opened in October, is unabashedly unapologetic about serving only traditional hamburgers. The restaurant is the first of what owner Mo Farha hopes will be three more in the Ann Arbor area.
As you enter, you pass through a tunnel-like hallway to get to the counter, where you order your meal. It's a large, open space. Light fixtures hang from rectangular boxes on the walls. Despite the burnt orange and blue paint on the walls, it almost has an antiseptic feel, made more pronounced by the industrial gray tables and chairs.
Great Plains has a menu that easily fits on its carry-out postcard. There are just basic hamburgers, fries and shakes. It's for carnivores only, as there are no options for vegetarians, unless you want to make French fries your meal.
Farha says his focus is to purchase the highest quality local ingredients. He says the meat is local and all-natural, prepared with no antibiotics or hormones, while shakes are made with antibiotic- and hormone-free Guernsey ice cream.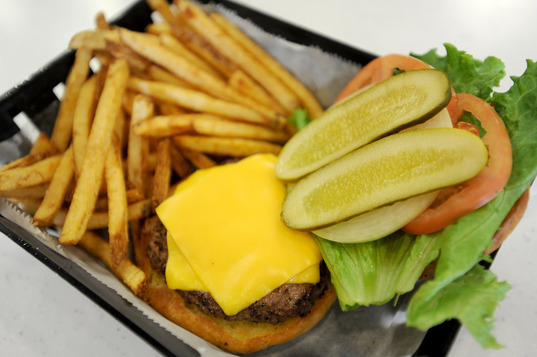 Angela Cesere | AnnArbor.com
Eating here is a true carb-fest. It's not for calorie watchers. You have your choice of two burgers, a single 1/3 pound or a double 2/3 pound. The burger comes with lettuce, tomato, onion, pickle and mayo.
You're also able to add several additional toppings, like grilled onions and sautéed mushrooms, at no extra charge. The toppings, with the exception of the fresh jalapenos, are rather standard and hardly exotic. Cheese costs an additional 50 cents.
I decided to sample the single and added mushrooms and provolone cheese along with the standard items. A big plus was the Zingerman's bun, which the bakery prepares daily just for the restaurant. The bun was so buttery it almost tasted like a pastry. The single was enormous, and the hamburger was large enough that I could only eat half of it. Mushrooms tasted freshly sautéed, and the entire sandwich was quite good, as was my dining companion's, who opted for the cheddar cheese on her burger. We also enjoyed the barbeque sauce.
I was surprised that the server didn't ask how we wanted our burgers cooked. That was OK with me, since mine was cooked medium well, just as I like it. But if you like yours rare, that's a problem, since they're all pre-cooked on the griddle to medium well or well done to comply with health code regulations, restaurant staff say.
Angela J. Cesere | AnnArbor.com
Seeing the piles of potatoes behind the counter, I was curious if the fries would taste fresh — and they were delicious, served hot, nicely seasoned. The basket of fries was far more than two of us could handle. We tried a chocolate shake on the first visit and it was creamy, rich and smooth, topped with whipped cream and a cherry. This also was large enough to serve two.
Service was prompt, as we received all our food within about 10 minutes, and servers were friendly.
Though there isn't much variety here, Great Plains does a fine job with what it offers. And the quality and quantity of the meat is well worth the $4.50 you pay for a single size. It's a nice place to stop for a burger for lunch or dinner, that's quite a step up from McDonald's, especially if you're in a hurry.
Great Plains Burger Company 1771 Plymouth Road Ann Arbor, MI 734-769-6950 Great Plains Burger Company web site Hours: 10:30 a.m.-10:30 p.m. every day lastic: Visa, Mastercard, Discover, American Express, Diners Club. Liquor: No. Prices: Inexpensive. Burgers are either $4.50 for a single; $6 for a double. Value: Excellent. Portions are huge. Noise level: Medium. Wheelchair access: Yes. Smoking section: No.