Posted on
Thu, Nov 24, 2011 : 8:24 a.m.
Greenhills School's cast makes magic with 'The Miracle Worker'
By AnnArbor.com Freelance Journalist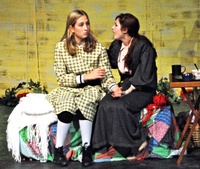 Photo by Shawn Bonine
This is part of an ongoing series of theater reviews of local high school productions, written by high school students appearnig on AnnArbor.com. This week, Skyline High School's Jonathan Jue-Wong (see bio at end of story) reviews Greenhills School's production of "The Miracle Worker."
Few plays capture the fundamental power of language more compellingly than William Gibson's "The Miracle Worker," recently staged at Greenhills School. By the final climactic scene at the Keller family's water pump, Helen Keller finally connects running water with the word "W-A-T-E-R." The audience has witnessed the entire arc of experiences and emotions that brought the blind and deaf Helen and teacher Anne Sullivan together.
The Miracle Worker is an American dramatic classic. Anne Sullivan was a young, untested teacher with an unflinching determination to teach respect and language to her very young, blind, deaf and mute charge, Helen Keller. Struggling against the well-meaning interference of Helen's parents, Sullivan strains to make Helen understand sign language words and to grasp the power of communication.
The cast, under the capable direction of Nancy Heusel, was filled with strong actors who fully embodied their roles. Annie Sullivan (Grace Mangigian) was fiery and stubborn, with a lively approach that exhibited Sullivan's passion for teaching and her intense hopes for Helen Keller. Mangigian's vivid monologue in act two, describing the horrors of the public almshouse she stayed in as a girl, was compelling and heart-rending.
Helen Keller (Ally Hogikyan) brought energy and vitality to the difficult role of a blind, deaf, and mute child. Kate Keller (Katherine Krauss) seemed somewhat reserved and detached in the first act, but by the second and third acts, her interaction with other characters improved, and her compassion and love for her daughter Helen was very believable. Her husband, Captain Keller (Jeffrey Xu) was extremely convincing. His portrayal of a hard military man coming to terms with his initial inability to help his daughter was realistic and compelling. Additionally, he presented a very well-developed character; Keller's prejudice against Sullivan for being a Yankee northerner was apparent in Xu's portrayal. James (Matt Fligiel) was a true to life antagonizing brother, and his ultimate confrontation with his father, Captain Keller, defending Sullivan's strict teaching methods, was a very well-conceived and executed moment in his character's development.
Many of the characters had authentic-sounding Southern accents. Sullivan even spoke with a light Irish accent, reflecting the historical fact that her parents were Irish immigrants.
The play's technical elements were strong as well. Technical director Laura Bird's set design strictly adhered to the script and was handsomely dressed. Costume designer Christine Silveira designed period-accurate costumes without a hint of inaccuracy. The running crew, under the stage management of Sam Slobel, operated smoothly and facilitated efficient transitions between scenes. The sound design, also by Laura Bird, occasionally bordered on cliché; overwrought and emotional music during the final, climactic scene in act three, when Helen Keller connects words to actual objects, detracted from the actors' excellent intensity and energy in this scene.
The possibilities of learning and discovering the power of communication lie at the heart of Gibson's "The Miracle Worker." In Greenhills School's production, the energy and focus made a relatively long, three-act play run smoothly and efficiently. When surrounded by "blind" people intent on forever treating her like a blind and deaf invalid beyond assistance, Helen Keller ultimately understood language and the power of communication when her teacher Anne Sullivan treated her like other girls. The cast of Greenhills School ultimately presented this story with sincerity, depth, and a mature intensity.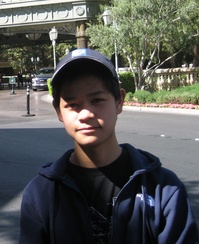 Jonathan Jue-Wong is a senior at Skyline High School. He is a member of Ann Arbor Civic Theatre and has performed in productions there and elsewhere. Favorite past roles include Monsieur Andre in "The Phantom of the Opera" (PTG) and Thuy in "Miss Saigon" (A2CT). Since 2009, he has been a member of the International Thespian Society, Troop #7400. He is interested in theatre and journalism, and is considering a career in those fields.