Posted on
Mon, May 2, 2011 : 9:47 a.m.
Gun Lake takes aim at Blind Pig for debut CD release party Thursday
By Roger LeLievre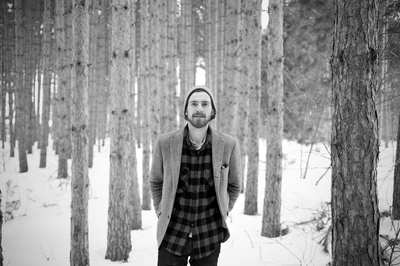 photo by Brad and Jen Butcher of QAvenuePhoto
Lakes are important to Ann Arbor indie/folk musician Mark Fain. First, there's the body of water in West Michigan after which he named his band, Gun Lake.
"It was the site of a wedding for two of my best friends and I was pretty instrumental in their coming together. It was sort of a four-year story that started in my senior year in high school," he explained.
Then there's Balfour Lake, in Northern Ontario, after which his band's debut CD, "Balfour," has been christened. Gun Lake will celebrate the release of the disc at a Blind Pig show Thursday night. Local favorites Lightning Love, recently named Midwest region finalist in a national Battle of the Bands competition, will open, along with Chicago quartet The Photographers.
Gun Lake's music has been compared to that of the late Elliott Smith, hot folk band Fleet Foxes and Bon Iver frontman Justin Vernon, and as far as Fain's concerned, that's OK with him.
"They're accurate enough for anyone who is wanting to listen to us and compare us to something. ... I know it's a compliment," Fain said.
Gun Lake was formed in 2010, but Fain, who is 25, has been involved with making music most of his life. "I started playing guitar in sixth grade, piano before that, even though I am a terrible pianist," recalled. "I started writing songs in high school, most of which are now very embarrassing. In college I was in a couple of bad bands. This one I think is finally a good band."
PREVIEW
Gun Lake
Who: Local indie folk/rock foursome includes leader Mark Fain plus Max Monson, Ryan O'Reilly and Ben Collins. With The Photographers and Lightning Love.
What: CD release party for the new disc, "Balfour."
Where: Blind Pig, 208 S. First St.
When: 9:30 p.m. (doors) Thursday, May 5.
How much: $5 (under 21, $8). Info: 734-996-8555; www.blindpigmusic.com.
He came to the University of Michigan at 18 from Gaylord, where he grew up. He began studying film, but eventually switched to the School of Music's Performing Arts Technology program, which combines music and video production.
Fain arrived at a breakfast interview in Ypsilanti recently with Patti Smith's memoir, "Just Kids," in hand, not really a surprising choice given the poetic feel of some of his lyrics.
"I guess being an artist sometimes means being influenced by the right things, and letting yourself be influenced by the right things and then taking from those things what you should take," Fain said.
Balfour Lake, from which the new CD takes its name, is a fondly remembered but remote vacation place from his youth, one of many good-fishin' Canadian lakes that he still visits as a grown-up.
"When I was a little kid, we'd go up there and go fishing for a week, stay in a cabin, we'd hike, canoe, kayak," he recalled. "To get into this lake, it's a lot of work. You can motor across the first lake, then you have to portage about a quarter mile with your motor, your gear, everything you'd need in a day. And that's kind of a pain. Then you have to navigate this creek that winds back and forth. And it's probably a foot deep for the most part ... it's fun, but it takes a long time to get there.
"(The album's name) is a metaphor really. It's just about a relationship, how this particular relationship I was in was difficult to get into but even more difficult to get out of. I didn't want to let it go," he explained.
As soon as the CD is released, Fain and the other band members plan to hit the road.
"We're going to do what I call wagon-wheel touring ... Ann Arbor is the center, we'll branch out in different directions on weekends," he said, "anything that's within driving range. ... We're going to try to be smart about the whole thing. Too many people make the mistake of making something and then letting it sit. We can't do that. Nothing gets heard if it's hidden," he said.
For the future, Fain hopes to continue pursing both visual arts/computer graphics and music. "But music is going to take the forefront," he vowed. "I love it so much. I'd love to make it my living. It's every person's dream to do what they love, and if I'm honest with myself, it's music."