Posted on
Thu, Feb 18, 2010 : 5:07 a.m.
Haab's goes beyond its comfort-food staples
By Will Stewart
For more than 70 years,
Haab's
restaurant has served not only as one of Ypsilanti's best and best-known restaurants, but also as part of the heart and soul of a community that has seen a lot of ups and downs during that time.
Haab's has stood witness to it all and remained a constant, comforting presence thanks to its warm, homey atmosphere and a menu that leans heavily toward comfort foods like prime rib, steaks, chops, ribs and meatloaf. Suffice it to say that you can't go wrong with any of these choices at Haab's, which, during its 7 decades in business, has turned them into art forms.
But there's more to Haab's than these comfort-food staples. Despite its somewhat old-fashioned décor and ambience (this is not a bad thing), Haab's menu has remained current with choices to satisfy everyone from the most ardent carnivore to fish lovers to vegetarians.
During a recent visit, we decided to stray from the meatier side of the menu to try some of Haab's lesser-known delicacies.
We started with a plate of fried mushrooms. Anything but standard food-service 'shrooms, Haab's are so large that only five fit on a plate. No worries, though; lightly breaded to enhance, rather than cover up, the fungi's mild flavor, this was a perfect starter that balanced Haab's old- and new-school offerings and was more than enough for our table of four.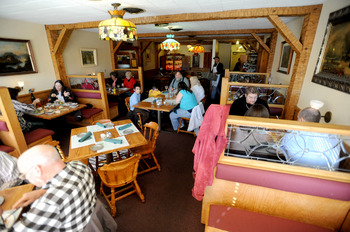 We have a well-documented love of lake perch and Haab's has among the best we've tried on this side of the state. Perch needn't be fancy; bread it lightly and fry it up, allowing the fish's own deliciousness do the work. Haab's kitchen staff grasps this concept, hand breading its sizable filets and being careful not to overcook them. The result is a mess o' perch capable of convincing you that you're at a Friday nigh fish fry in a small, lakeside town.
On the day we visited, salmon was the fresh-catch special and, as with the lake perch, Haab's has this dish down. Our good-sized filet was broiled to tender perfection, pink and flaky, while retaining its moist texture and full flavor.
Chicken in a basket, a Haab's staple, is really just a fancy name for fried chicken. But unlike the dried-out fried chicken found at many restaurants, Haab's is tender, juicy and oh-so flavorful, perfectly accompanied by the eatery's signature shoestring French fries, as well as honey and a roll. (A word of caution, however: while delicious and worth ordering again, our chicken arrived so hot that it took several minutes before we were able to even attempt to eat it.)
---
Haab's
18 West Michigan Avenue
Ypsilanti
Haab's in the AnnArbor.com restaurant guide
734-483-8200
Hours: Sunday through Thursday, 11 a.m.-9 p.m.; Friday and Saturday, 10 a.m.-10 p.m.
Plastic: All major cards.
Liquor: Yes.
Prices: Moderate to expensive. Entrees from $9 to $25.
Value: Good.
Noise level: Quiet.
Wheelchair access: Yes.
Smoking section: Yes.
---
One might not think of salad when ordering at Haab's, but don't overlook its several salad options too quickly. Our chicken Caesar was everything we love about a good Caesar salad, bursting with fresh romaine lettuce, boiled eggs, tender chicken and a well-made, garlicky dressing.
Service at Haab's has always been exemplary, thanks to a well-trained staff that tends to stick around year after year. Unfortunately, the service during our recent visit was something shy of ideal, although our server appeared to be new to her job and perhaps somewhat "in the weeds" thanks to a Friday-night rush.
Sure, if you're craving a steak or a classic pork chop, put Haab's high on your list. But don't count out a visit to this local institution for some of its other, lighter fare. We think you'll agree that Haab's, after all these years, is no one-trick pony.