Posted on
Wed, Jan 23, 2013 : 10:29 a.m.
Hana offers well-done, reliable traditional Korean fare
By Kim Bayer
Photo by Bob Kuehne
With its large population of Korean students and a new(ish) Korean Studies Program, Ann Arbor is a veritable treasure trove of Korean restaurants. However, few of them can claim to have been around for nearly three decades. For that we have to look to Ypsilanti, where Hana Korean Restaurant on Michigan Avenue has been in business for 29 years.
When I heard from an acquaintance that Hana had great food, the promise of bibimbap and steaming hot kimchi stew was reason enough to brave a dark and snowy drive to the far eastern edge of Washtenaw County to see for ourselves. Almost to the Willow Run airport on a heavily trafficked strip of Michigan Avenue, we would have missed Hana's darkened sign if I hadn't been prepared to keep a sharp eye out.
With boxy minimalist lines of an earlier era, you can imagine the roadside waffle house that Hana probably was once. The large windows looking out on the parking lot are covered now with woven reed blinds. Inside the spacious dining room, sturdy wooden faux-pagoda lintel constructions top entryways and lucky gourds fringed in red decorate the walls.
RESTAURANT REVIEW
Hana Korean Restaurant
1346 E. Michigan Ave., Ypsilanti
734-483-2455
No website
Hours: Monday-Saturday, 11 a.m. - 9 p.m.; closed Sunday
Plastic: Visa, Mastercard
Liquor: None
Prices: Inexpensive. Generous portions, Entrees are $9-$23
Noise level: Quiet
Wheelchair access: Yes
For good reason, Hana is often described as a "small mom and pop place." Mr. and Mrs. Lee, originally from Seoul, still own and run the restaurant, where Mr. Lee does the cooking and makes two kinds of kimchi in-house.
The dinner menu lists 29 items, and each is marked with an icon signifying whether it is spicy, can be made mild or can be made vegetarian. Only one appetizer is available, mandu, half-moon-shaped vegetarian fried dumplings. Served with a vinegar-spiked soy sauce, they were salty, deep-fried, and tasty. Our waitress told us, though, that they are the only item not made in house.
The menu offers half a dozen "bokkum," or stir-fry dishes, along with nearly a dozen main dish soups (tang) and stews (jiggae), and a few popular stalwarts like bibimbap, japchae noodles, and marinated grilled bulgogi beef and kalbi ribs.
Dinner starts with a selection of cold banchan, small house-specific side dishes, like potatoes stewed in sweet and salty soy sauce, strips of radish pickle in spicy gochujang sauce, refreshing matchsticks of crunchy daikon and carrot with seaweed in a sweet and sour dressing, and cubes of smoky tofu in a spicy sauce. The kimchi, both the sliced cabbage and chunky radish varieties, was excellent.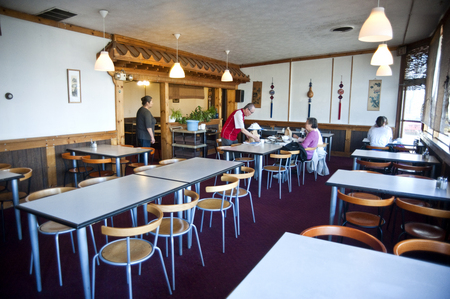 Joseph Tobianski | AnnArbor.com
Probably the most dramatic thing we ordered was the spicy kimchi stew, or kimchi jiggae, which arrived boiling hot in a metal bowl with a blue flame of sterno underneath to keep it steaming. Thick with slices of tart kimchi and lean pork, chunks of soft tofu, and shredded green onion, this version of kimchi jiggae was tasty and warming on a cold night but not as richly flavored as it sometimes is.
According to the Kimchi Chronicles, this stew that often features pork belly is one of the easiest to prepare. However, we learned that Hana was out of pork belly and using a leaner cut of meat. This also affected another of our dishes.
The pork bokkum, a mixture of stir-fried kimchi, pork belly, and onion, is usually one of our favorites. Again, the dish was very generously portioned and heaped with kimchi and lean pork slices in a fiery red sauce. Our server did let us know that they were out of pork belly, but we went ahead anyway. Like the kimchi jiggae, it was still good but without the depth of flavor that it can have.
One of the more adventurous eaters at our table was excited by the nakji bokkum, or octopus stir-fried with onion in a spicy gochujang. This dish balanced the spicy heat in the sauce with a surprising quantity of sugary sweetness, combining large chewy chunks of octopus with quantities of sliced sweet yellow and green onions.
The Hana version of bibimbap is a large metal bowl filled with rice and topped with tasty bits of marinated beef, sliced and salted cucumber, spinach in sesame dressing, and bean sprouts in sesame dressing. The egg on top was fried hard, so didn't provide the richness of a soft yolk mixed in with the rice. The generous and well-marinated bits of beef and sesame dressed vegetables still made this a worthy rendition of the classic dish.
The kalbi, grilled beef short ribs, were a highlight of the meal. A heaping platter of sweet and garlicky soy-marinated, thin-sliced ribs were expertly grilled and came with a handy pair of kitchen shears to help divide the large pieces.
We were interested to try some Korean desserts, but there are none on Hana's menu.
Although we were there on a Saturday night, the restaurant was not terribly busy. A family of four (with two teenage boys) came in and a table of students arrived—two groups that would especially appreciate Hana's reasonable prices and generous quantities of food. Another table in a back room seemed to be playing cards and was speaking Korean. I thought I spotted Psy heading out for a smoke. He probably came for the kalbi too.
Kim Bayer is a freelance writer and culinary researcher. Email her at kimbayer at gmail dot com.