Posted on
Tue, Jan 15, 2013 : 7:37 a.m.
Sounds of Simon & Garfunkel: Duo's salute stopping at The Ark
By Roger LeLievre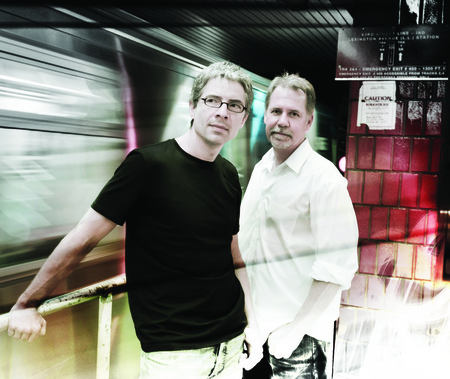 Chances are Simon & Garfunkel won't be reuniting for a show hereabouts any time soon, but the next best thing is
coming to The Ark Saturday
when
A.J. Swearingen and Jonathan Beedle
stop by with their spot-on tribute to folk-rock's classic songwriting team.
Swearingen's baritone takes Simon's part, while Beedle's tenor handles Garfunkel's high harmonies. Their goal is to capture the essence of the folk duo's sound during their early years. The expected S&G tunes ("Sounds of Silence," "Bridge Over Troubled Waters," "Mrs. Robinson") are all part of the show, said Swearingen, as are some of the pair's more obscure songs ("Richard Corey," "Flowers Never Bend With the Rainfall," "A Most Peculiar Man").
"If you went—hypothetically—to a Simon and Garfunkel show, they're so big now that some of that intimacy is gone," said Swearingen. "We try to recreate that early 1964-'66, Greenwich Village, small-venue sound rather than the bigger venue scale."
The pair met by chance in 1991 at a club in New Hope, Pa. "From the moment we sang together there was a blend that just worked," Swearingen said.
"As far as putting the retrospective together—we love the material. It seemed to fit what we were doing as individuals too, what we loved about singing and songwriting.
PREVIEW
Simon & Garfunkel Retrospective
Who: A.J. Swearingen and Jonathan Beedle. Jayne Kelli will open the show.
What: A tribute to folk-rock's classic singing-songwriting team.
Where: The Ark, 316 S. Main St.
When: 8 p.m. Saturday, Jan. 19.
How much: $22.50. Info: www.theark.org or 734-761-1451.
"I think the idea came about (when) I saw some guy playing a James Taylor retrospective at a college where I was performing," Swearingen explained. "I realized that there really is a market for doing a retrospective of someone else's material if it's presented the right way."
He said Simon & Garfunkel's music is appealing on several levels.
"Lyrically, their stuff is amazing. And the melody. Obviously the harmony. It's just that relationship of the two voices coming together to make one sound—that is the appeal. There's a lot of energy in that," Swearingen explained. "It's challenging material."
This is the duo's second appearance at The Ark. Branching out, they recently performed three nights in Grand Rapids with the Grand Rapids Symphony Orchestra, and have several more similar appearances set in 2013 with other ensembles, leading their act in a whole new direction.
"I feel like we have two shows—the big symphony-based show and then Jon and I going it alone with an acoustic guitar and two voices. And that show we cover more material, and we really get to dive into a lot of the obscure stuff," Swearington said.
Born in 1969, a year before Simon & Garfunkel recorded their last album, Swearington was too young to remember the duo in its heyday, but said he was exposed to their music because his parents had several Simon & Garfunkel albums. "Jon was born in 1955—he grew up more in that time," Swearington said. "I heard a replay of the Simon & Garfunkel Central Park concert on TV and I was mesmerized by the songs and that was a turning point for me in my mid teens. That when I thought I'd put the electric guitar down and go in this direction."
Opening the show will be singer-songwriter Jayne Kelli, with whom Swearington also tours. He compared their act (coming to The Ark March 11) to that of the recently disbanded duo The Civil Wars, which had originally been booked to headline at this year's Ann Arbor Folk Festival.
"At least we know there's a market for that kind of sound," he said. "A lot of people get tired of overproduced music and they want to hear people sing and play real instruments."
Meanwhile, he said they haven't heard anything from Paul Simon and Art Garfunkel about their retrospective show. "I only want to hear from them if it's good," Swearingen joked.