Harry & the Potters playing Neutral Zone on Saturday
Posted on Tue, May 24, 2011 : 11:09 a.m.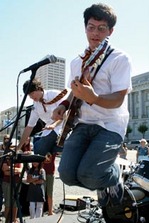 The Harry Potter saga may be over, but wizard rock lives on.
The genre of pop music inspired by the Harry Potter novels is still drawing fans, and one of the top practitioners, Harry and the Potters, is coming to Ann Arbor this week.
The band plays the Neutral Zone from 7-8 p.m. Saturday in a free concert sponsored by the Ann Arbor District Library.
Harry and the Potters are brothers Paul and Joe DeGeorge, who began this band in Massachusetts in 2002 and have since toured extensively nationwide. They are known for their elaborate live performances.
The duo co-founded charity organization the Harry Potter Alliance, and formed the Wizard Rock EP of the Month Club, an extended play syndicate, and with it collaborated with many wizard rock musicians.
Since the band's formation in 2002, they have released three full-length studio albums, seven extended plays, and one compilation album, and have appeared in a further three compilation albums. The Boston Phoenix has called Harry and the Potters "the Pink Floyd of Potterdom."
The concert is set for 7 p.m. Saturday at the Neutral Zone, 310 E. Washington in Ann Arbor. For more information, call the Ann Arbor District Library Youth Department at 327-8301 or visit the website at aadl.org.