Posted on
Sat, Jan 5, 2013 : 8:58 a.m.
Corner Brewery, UMS team up to host a play - and yes, drinking is encouraged
By Jenn McKee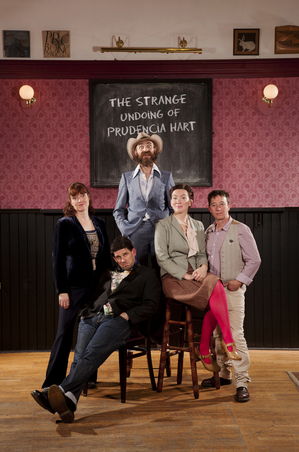 photo by Simon Murphy | courtesy of the National Theatre of Scotland
If you and your partner have ever argued about whether to spend the evening in a theater or in a bar, guess what? During the 7-performance run of the National Theatre of Scotland's "The Strange Undoing of Prudencia Hart," presented by the University Musical Society, you won't have to compromise, since the production will make its home inside Ypsilanti's
Corner Brewery
.
Described as an evening of "anarchic theater, live music, and strange goings-on," and inspired by Scottish border ballads, Robert Burns, and the poems of Robert Service, the show follows the title character, a buttoned-up academic, as she sets off to attend a conference in the region of Scotland that borders England. As the snow falls, she finds herself trapped in a secluded bar with strangers, only to be swept away on an enchanting, dream-like journey, during which she unleashes the devil and revels in her own "undoing." Here's a video trailer.
The Corner Brewery will be closed to the general public an hour prior to each performance (running time, two hours and 15 minutes), and will reopen a half hour after the performances end. Ticketholders are encouraged to arrive early to enjoy some Scottish craic - the grand Celtic tradition of good times, good friends, and the fruits of the pub. (Due to the nature of the performance, latecomers cannot be seated.) Plus, there will be a public lecture and conversation about the National Theatre of Scotland in the Corner Brewery on Saturday, Jan. 12 at 6 p.m.
The entire run of the play has been sold out for some time, but for the latest information on possible ticket availability, call 734-764-2538 or visit tickets.ums.org/. In the meantime, check out "Undoing" director Wil Wilson's email responses to a few questions about the show.
PREVIEW
"The Undoing of Prudencia Hart"
Who: National Theatre of Scotland, presented by UMS.
What: An evening of anarchic theater, live music, and strange goings-on as UMS takes theater into a pub. In the show, an uptight academic finds herself trapped in a secluded bar with strangers, only to be swept away on an enchanting, dream-like journey.
Where: Corner Brewery, 720 Norris St. in Ypsilanti.
When: Tuesday-Thursday at 7:30 p.m., Friday at 8 p.m., Saturday at 2 and 8 p.m., and Sunday at 6 p.m., January 9-13.
How much: Sold out. For ticket availability information, visit www.ums.org, or call 734-764-2538, or visit the Michigan League Ticket Office at 911 N. University Ave. in Ann Arbor.
Q. Could you tell me a bit about the show's creation? Was it a collaborative effort, using improvisation as a tool, or did someone write a script as a starting point?

A.
Writer
David Greig
, composer/performer
Aly Macrae
, designer
Georgia MacGuinness
and myself created "Prudencia Hart" over about a year and a half. Of course we were all working on other shows too during that time, but it did have a long gestation period, and we were able to work very organically, with the visual world, the use of space, the text and the music all feeding into one another. We also did a lot of research as a group into the Border Ballads in particular, memorably in the small Borders town of Kelso, where we didn't exactly meet the devil, but we certainly had a memorable weekend. So by the time it came to rehearsal, we had a very clear understanding of what the story of the show would be, and how we would tell that story, but the actual writing of the text happened very late in the process. In fact, David wrote most of it in the corner of the rehearsal room whilst we were working on the scene he'd just finished. So the way we were working and the writing informed each other very directly. We also did a fair amount of improvisation around the ideas and situations in the play, so whilst the text is absolutely David's own, "Prudencia Hart" always felt like a fundamentally joint creation.
Q. What initially inspired the production?
A. David, Aly and myself had created a show for family audiences a few years earlier, which had explored a similar way of working and had got us very excited about creating a piece for adults in a similar vein - something which explored a very direct and playful relationship with the audience, whilst at the same time dealing with big ideas and real emotional complexity. David suggested we look at the Border Ballads. They had an instinctive appeal, as they are great stories which exist as much as songs as they do as poems; they deal with love, death, passion and the supernatural; and they come from the Scottish oral folk tradition. That means they exist primarily as stories which are passed on by word of mouth, rather than written text, and as such they would change depending on the mood of the teller, the reaction of the audience, even contemporary events. So we felt we had licence to tell our own Border Ballad, in the spirit of the originals. We were also interested in exploring the notion of authenticity - is a piece of passionately performed karaoke necessarily any more or less "authentic" than a beautifully-sung Border Ballad? So that led us onto a lot of thinking about popular culture and high culture, and how the two might rub shoulders in the piece, which they do all the time.
Q. Playing in different pubs, with different layouts and furnishings, must add a layer of challenge. What basic things must a pub have for the show to work? Are there things you look for when deciding on a locale?
A. We have a list of requirements when we're looking for venues. They are pretty basic - we need a bar; we need a space where everyone gets a good view of the show; we need a space which can sustain the audience's concentration in the quieter passages, so it can't be too noisy, for instance. Also the spaces need to have a certain rough and ready, lived-in feel. We avoid shiny, newly-refurbished bars. But beyond that, we can go pretty much anywhere, which was our intention from the start. The show has the feel of a bunch of people who have just turned up and tell an amazing, compelling, funny, dramatic story, using whatever is to hand - glasses, beermats, the pub PA. We also adapt it to each venue as we go, which keeps everything fresh and vital, because, of course, as well as adapting it in terms of space and movement, it reacts in the moment to the reality of the particular audience on any given night.
Q. I read that you provide a glossary for the audience, but that's usually to clear up details. More broadly, do you find that audiences in different parts of the world respond to the show in different ways? Laugh in different places? Do American audiences have certain traits that are relatively consistent?
A. The glossary is a bit of fun really. The show doesn't rely on it in any way. We have found that the story and atmosphere of the show communicate with audiences in a remarkably consistent way, in fact. Even very specifically Scottish references work, for example, in the U.S. The biggest changes we have had to make for the U.S. are simply to vocabulary - 'vegetable patch' instead of 'allotment', for instance. Nothing major. You do get different reactions and laughs in different places all the time - we experienced that even across Scotland -Â so taking it further afield has just felt like a continuation of that. It's another thing which keeps it all alive and fresh every night, so we love it.
Q. What's the impact on an audience, before the show even starts, to having a show taking place in a bar?
A. The venue has a huge impact on an audience, probably more than audience members are consciously aware of at the time. Your usual expectations of what theatre is are left at the door. Taking theatre out of a theatre building shakes up the relationship, the contract if you like, between audience and performers. That gives us a huge opportunity, because it means we can rewrite that contract from scratch. We create a very relaxed, convivial atmosphere as the audience arrives, which establishes that we are making this event with the audience, not doing it to the audience. That's a fundamental difference - we're all sharing the same space together, we need your help - your presence, your imaginations, sometimes your participation - or there is no show. Through the course of the show, the room shifts hugely through a whole range of moods and atmospheres. Audiences are incredibly sensitive to atmosphere and to what is expected of them, they want to go with the performers on that journey.
Jenn McKee is the entertainment digital journalist for AnnArbor.com. Reach her at jennmckee@annarbor.com or 734-623-2546, and follow her on Twitter @jennmckee.