Posted on
Thu, Jan 3, 2013 : 5:16 a.m.
Have your cake and eat it too - for brunch on the weekend at Jefferson Market and Cakery
By Kim Bayer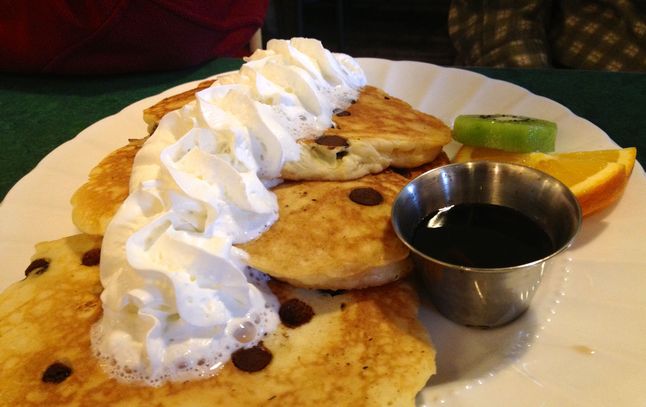 Kim Bayer | AnnArbor.com Contributor
Looking for brunch on a weekend morning? Enter the time warp of Ann Arbor's historic Old West Side to find a remnant of the era when every neighborhood had its own little store. Under its classic "Good to Go" sign and behind an old-fashioned brick and glass front stands the Jefferson Market and Cakery.
This neighborhood market and bakery across the street from Bach Elementary School has seen several incarnations, and was known as Schneeberger's Grocery as far back as 1922. Now owner Mary Rusmussen runs her specialty pastry and cake-baking business there, offering soup and sandwich lunches during the week, and brunch Saturdays and Sundays from 10 a.m.-1 p.m.
The spring-loaded wooden screen door at the market squeaks and slams just like the door at my Grandma's house did. Inside, hardwood floors and old-fashioned light fixtures hanging from the high ceiling call to mind an earlier era. The interior color scheme is creamsicle orange, sherbet green and custard yellow, and a long communal table anchors the center of the narrow market space.
Head back past the refrigerated cases of soft drinks, milk and eggs to place your order with the host standing near the open kitchen. Then fill your mug with coffee from a press pot, round the corner to inspect the day's pastry selections, and pay (via Square) before taking a seat.
RESTAURANT REVIEW
Jefferson Market and Cakery
609 W. Jefferson, Ann Arbor
734-665-6666
http://jeffersonmarketandcakery.com
Hours: Monday Closed; Tuesday - Friday 8 a.m.-5 p.m.; Saturday and Sunday brunch 10 a.m.-1 p.m.
Plastic: All
Liquor: None
Prices: Moderate
Noise level: Moderate
Wheelchair access: No wheelchair access
Motown tunes are in the air, and so is the tantalizing smell of bacon. Mary Rasmussen says that in addition to their regular menu (with items humorously named with the "Jeffersonian" era in mind—like the McJefferson bagel sandwich and Liberty pancakes), they offer both a sweet and a savory special that changes each month. Rasmussen says people look forward to specific months for certain specials that are really popular. For example, the savory Guinness pancakes made with beer and cheddar cheese in September, and the Spring Voodoo Pancakes with fresh blackberries and raspberries in March.
Among the sweet and savory breakfast options, I ordered the "kitchen-sink" Mt. Rushmore Plate with hash browns, red peppers, mushrooms, red onions, spinach and eggs scrambled together with a little cheese on top. You know you're in the Midwest because it comes with a side of ketchup in a little plastic dish. Prepared with fresh vegetables, this dish was yummy, filling and vegetarian. (I ordered it with a side of sausage.)
Although I wanted to try the sausage, I wish I had gotten the bacon that my husband ordered. The thick-sliced bacon was delicious and cooked to a perfect balance between crispy and chewy, but the pre-made sausage patties were limp and oddly under-seasoned.
My husband lucked out because that delicious bacon was a perfect pairing with the Eggnog French Toast special. Owner Mary Rasmussen says they use Guernsey Farms Dairy eggnog in the batter, in which they dip thick and fluffy slices of Great Harvest challah. The french toast was rich and eggy, but I wished that they would offer the option of real maple syrup with it.
As for those Liberty Pancakes, Rasmussen says they use "a secret family recipe." Three large buttermilk pancakes come in variations including plain, dried cherry or chocolate chip. Served with a fruit garnish and little cup of syrup, chocolate chip pancakes with a spritz of whipped cream are a decadent breakfast for sure.
The McJefferson is a tall bagel sandwich that is hard to wrap your mouth around because it is stuffed with a small omelet, spinach, tomato and bacon or sausage bound together with a healthy dose of mayo.
Even though our bellies were beginning to bulge, since we were at the Jefferson Market and Cakery, we felt obliged to try some of the items from the pastry case. The Chocolate Caramel Shortbread in particular is outstanding—a thick layer of gooey and buttery house-made caramel sandwiched between a crisp shortbread crust with a Ghirardelli chocolate shell on top.
The Bailey's Chocolate Cake features a dense chocolate layer cake with buttercream frosting flavored with Bailey's Irish Cream. The cake had nice dark chocolate flavor and a moist crumb, but the Bailey's was a bit faint. The Cranberry Walnut Pie was crunchy with nuts and tart with pronounced cranberry flavor, but a little mushy from sitting in the case.
For coffee, JeffMark (our affectionate nickname) now uses Small World Roasters, run by a couple of Michigan alums out of Princeton, N.J. It's a nice strong brew. Some interesting coffee options include their "Hawaiian Coffee," which has coconut cream and toasted coconut on top, and which I found a little too sweet. Mary Rasmussen describes her favorite as their "Coffee Grog," a sweetened coffee with orange and and lemon zest, spices, and cream. I had the Red Chai, which I hadn't seen before and which I could not distinguish from other types of chai. I was sad that there were no fresh juice options—but bottles are available in the refrigerated case.
While we were there, the market was busy with lots of families and groups of friends chatting over brunch but our food arrived promptly. Rasmussen circulated through the room, greeting people by name, and checking to make sure each table had what it needed. I understand that they do take reservations, but only for the first seating when they open at 10 a.m.
The food is tasty and reasonably priced, and they succeed with the ambiance Rasmussen wants her guests to feel. She says, "We are definitely trying to create a really warm atmosphere and to feel like a neighborhood place, where we know our customer's names. Like you're coming to Grandma's to have an after school snack or breakfast on Sunday." And, just like at Grandma's—you might leave with some extra treats, but don't let the screen door slam on your way out.
NOTE: January specials will include: latkes topped with ginger, apple and pear compote with a side of eggs. And blueberry ricotta French toast.
Kim Bayer is a freelance writer and culinary researcher. Email her at kimbayer at gmail dot com.