Posted on
Wed, Feb 27, 2013 : 7:54 a.m.
Healthy again, Neil Woodward teams with Cats & the Fiddler at Ark for final show with mentor
By Roger LeLievre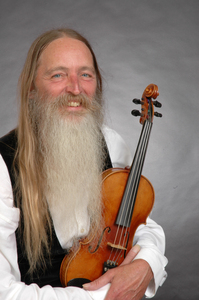 There's good news for fans of Michigan troubadour
Neil Woodward
who may have been wondering just where the longtime area music stalwart has been the past couple of years.
He'll be back at The Ark Sunday night for a show that will also be his last gig with Cats & the Fiddler, the young Milford traditional music trio he has mentored for the past 10 years.
There's a good reason for his absence: Two years ago, Woodward was slowed by a stroke. "It's been kind of interesting coming back from that," he said. … "When you have a stroke it kind of sets you back a little. So I am just getting around to the point now where I feel like I have my stuff all together to the point where it's really going to be presentable the way I like to present it at The Ark.
"There was a series of months where I wondered if I had any songs left at all, but they are coming back better and better. It's been a lot of work, but it's been fun revisiting all this material," he added.
Woodward is well known in Ann Arbor and has been playing at The Ark ever since the mid-1970s, when it was located in its original home, long demolished, on Hill Street.
The Michigan Legislature named him "Michigan's Troubadour" a number of years ago in recognition of his dedication to the storytelling tradition of the troubadour and his performances featuring Great Lakes music and history. He has nine albums to his credit, which represent why Woodward was described in The Ark's calendar as "a virtuoso of virtually all of the traditional string and wind folk instruments."
PREVIEW
Neil Woodward
Who: Traditional folk, bluegrass and gospel from acoustic troubadour Woodward, with Milford-based family bluegrass band Cats & the Fiddler and other guest musicians.
What: Original compositions and evocative antiquities from Great Lakes and North American folklore.
Where: The Ark, 316 S. Main St.
When: 7:30 p.m. Sunday, March 3.
How much: $15. Info: www.theark.org or 734-761-1451.
He said he is viewing his upcoming show at The Ark Sunday night with mixed emotions.
After mentoring Cats & the Fiddler for the past 10 years, it's time for the accomplished-beyond-their-years group to move on to the next phase of their lives. They are now in their final year of high school, and expect this to be their last performance season as they move on to whatever the future brings, he said.
"With the kids' futures spreading out before them, I am pleased they have found the time to make music with the professor," Woodward said of The Ark show.
Cats & the Fiddler was formed by the Richardson siblings Shaun and James and cousin Carmen Gibes when they were 5 years old.
"It's kind of amazing how many years everybody's been on this project. They worked so long, so hard every day - it's good to have it end at a place where they sound as great as they do," Woodward observed.
Sunday's show marks the 10th anniversary of the Cats' first time opening for Woodward at The Ark. His "Warm Winter Night" CD is the live recording of a 2007 Ark show.
"Overall I think everyone is really proud of those kids. … Just to be a part of it is a wonderful thing—they are wonderful people. American traditional music is in good hands, that's really how I feel about it," he added.
Woodward said he didn't know if the three young people would continue to pursue music, but said he hoped they would. According to an e-mail from Debra Gibes, Carmen's mom and the group's media contact, the trio expects to play a few gigs this summer under a new identity, Out of the Blue, as they attempt to change their bluesy bluegrass into a more country-pop sound.
""James has auditioned for a vocal music major at a number of universities within the state and is waiting on the final results. Carmen has been accepted into Lawrence Technological University's architecture program but is also waiting before giving it a full thumbs up as she continues to contemplate a music career. Shaun is considering investigating the Nashville scene to see what opportunities may exist as a solo artist or for their new band. Should their futures mesh in some way, shape or form, they may continue to play music together," she wrote.
And, as far as his own work is concerned, Woodward said he has plenty of new ones songs ready to be written down and recorded.
"I've got a whole pile of songs that are starting to clog up my brain if I don't get them recorded, get the arrangements down," he said. "So that's what I plan on doing this winter - working on another studio project."
In addition, he's been working on a project to put out some songbooks of some of the traditional albums he's recorded, to make some of that music more accessible to schools and other people interested in Michigan.
For The Ark show, Woodward said he and the Cats will likely be joined by Brien Ahern, another young musician from the Milford area, as well as bassist Gary Weisenburg.
"We're going to get everybody together and do some full-tilt band music. We'll probably do some traditional stuff and some original stuff. And then I'm planning on doing a solo set, probably a little bit with my fried Gary and I. We're planning a the Cats set there in the middle and we're going to wrap it up with everybody playing," Woodward said.
And yes, Woodward still boasts his impressive beard. "I haven't done anything rash," he said.