Posted on
Sun, Jan 13, 2013 : 5:04 a.m.
Hear the organ at Hill or Gemini at the library
By Ann Dwyer
MUSIC
Catch "The Girly Show: Michigan Women Sing Michigan Men" at the Kerrytown Concert House. 2 p.m. All proceeds will benefit SafeHouse Women's Shelter of Ann Arbor. The junior and senior girls of the University of Michigan's Musical Theatre Department come together for an hour of music singing songs written by Michigan men. $25 assigned rows 1-2; $15 assigned rows 3-5; $10 general admission; $5 students. 415 N. Fourth Ave., Ann Arbor. 734-769-2999.
MUSIC
Happy 100th birthday, Hill Auditorium! To celebrate, the Detroit Symphony Orchestra will play Hill Auditorium's 'King of Instruments:' the Frieze Memorial Organ. 4 p.m. The organ was a centerpiece of Albert Kahn's design when Hill Auditorium was built. It will be featured in nearly every piece performed in the concert. $10. 825 N. University Ave., Ann Arbor. 734-763-3333. Buy tickets at dso.org.
KIDS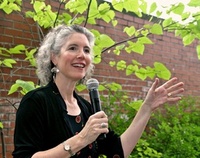 Gemini and "Story Lady" Laura are "Friends In Songs And Stories" at the
Ann Arbor District Library
main branch. 2-2:45 p.m. San and Laz of Gemini and Laura Pershin Raynor kick off Gemini's 40th year of playing music in Ann Arbor with a special joint music/storytelling program for the whole family. Free. 343 S. Fifth Ave., Ann Arbor. 734-327-4200.
MAKE
Ann Arbor's "makerspace," All Hands Active, wants to teach you how to make an Atari Punk Console. But first, you should probably know that it is an electronic instrument and not a way to play Ms. Pacman. 2-4 p.m. The APC is a classic simple synthesizer / sound generator. They will provide the tools, parts, and knowledge for you to build and play with a fully operational APC. $10 to $15 to take the class, $25 to $30 to take your APC home. Further details can be found at: www.allhandsactive.com/events/atari-punk-console-workshop/. 525 E. Liberty St., Ann Arbor.