Posted on
Wed, Dec 29, 2010 : 5:41 a.m.
Capturing natural beauty with local artist Helen Gotlib
By Jennifer Eberbach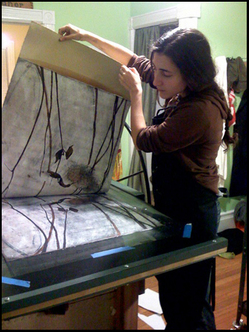 Local artist Helen Gotlib's still lives and figurative drawings, paintings and etchings capture natural beauty, whether she is depicting the curves and wrinkles on a nude model or drawing the lines of a wilting flower onto one of her botanicals.
Gotlib has a semi-realistic still life instinct that comes from her academic and professional background in scientific illustration. The Community High School grad double majored in scientific illustration and printmaking as a student at the University of Michigan's School of Art and Design. After graduating with her B.F.A in 2003, she spent a couple of years working in the field of medical illustration before becoming a full-time professional artist.
However, Gotlib's personal style also breaks from the "tight detailed style" of scientific illustration in a number of ways, she explains.
Coupling scientific illustration with "more emotionally expressive and artistic" endeavors like figurative drawing and printmaking "really helped me loosen up my lines."
The artist has been creating portraits of nude females the longest. During her time as a artist in residence at the Kala Art Institute in Berkeley, California (in 2004 and 2005) she traveled around to different artists' studios throughout the week to draw live nude models. Sometimes every day.
"The way real people look is beautiful to me, and that's what I hope to convey," Gotlib says. PhotoShopped bodies with unnatural proportions that wouldn't work in the real world look strange to her. She thinks the natural curves found on real women's bodies are "the lines I like to draw," Gotlib says. "In fact, the way I draw sometimes puts extra weight on the body and makes them curvier than they actually are."
Gotlib's nudes usually depict female models, mostly because "male bodies are square and my style goes better with a curvy type of body," she says. However, she has also painted men. She got lost in the lines and wrinkles of her nude model "Leon," which depicts an older gentleman who posed for the artist.
Many of Gotlib's artworks feature a limited or subdued color palette: She commonly uses yellow and brown tones or she uses only a few different colors to create a work. But lately, she's been adding more color. "My aunt got me a blanket from Guatamala that I've been using in my nudes. I want to do more with that piece and I think adding more fabrics that wrap up the body is something I want to do in the future. You might only see their head and hands poking out. The rest would just be alluded to and covered in the patterns (of the cloth)," she says.
The artist sees similarities between drawing the nude figure and drawing botanicals. "Figure drawing is really just as much about depicting the life cycle as drawing plants. The plant life cycle just happens more quickly," Gotlib says.
Gotlib got interested in botanicals a few years ago. One week during wintertime, she did not have a model scheduled and decided to buy some lilies from a flower shop instead. It sparked a long-lasting interest in the life cycle of plants, especially during fall and winter months. "I drew the lilies a couple of times when they were alive and then wilting. Then I drew them like every single day as they were drying," she remembers.
"Botanical paintings are commonly about traditionally beautiful plants like roses, peonies or mums in full bloom. I'm more interested in plants that look odd. Even if it's a traditional flower, I like to let it dry so that it changes from that common image of the flower that everyone can imagine," Gotlib says.
Gotlib created a special series of botanical paintings for ArtPrize, in Grand Rapids. Four large still-lives depicting dahlia flowers show what the plants looks like during each of the four seasons. "Although I had already been do work about plants during different seasons and stages of the life cycle, (the Dahlia Year series) was the first time I show the four seasons all together," she says.
Aside from creating art professionally, Gotlib recently helped host the first "Tiny Expo" in Braun Court near Kerrytown, which was held Dec. 11. She hosted a couple dozen local and metro Detroit artists at the holiday shopping mini-fair in collaboration with boyfriend Dylan Strzynski and friends Ted Kennedy and Michelle and Peter Baker. She also helps Strzynski promote his t-shirt design business, International Robot. "Marketing and promotions work is another passion," she says.
Gotlib thinks the first "Tiny Expo" was a success and a good experience. "I know that a lot of the artists are still getting residual sales after the event. We'd love to do it again," she says.
When Gotlib is not working from home in Ann Arbor, she travels to about a dozen exhibits and art fairs around the country. While traveling, mostly during the summer months, "we make little trips along the way to go camping and visit friends and relatives, or we stop over at things like the Grand Canyon — sometimes we extend a trip for three weeks to a month," she says.
Find out more about Helen Gotlib and upcoming shows featuring her artwork on her website.
View a slideshow featuring works by Helen Gotlib:
Jennifer Eberbach is a free-lance writer who covers art for AnnArbor.com.