Posted on
Tue, Jun 4, 2013 : 10:39 a.m.
Help former booksellers at the Sips & Songs event at Woodruff's
By Ann Dwyer
Books, those things with pictures on the outside and bound paper on the inside, are thankfully not a thing of the past here in Ann Arbor. Sadly, though, we've had some major bookstore losses. That's why the Book Industry Charitable (Binc) Foundation will hold a Sips & Songs show at Woodruff's to benefit bookstore employees in times of personal financial crisis.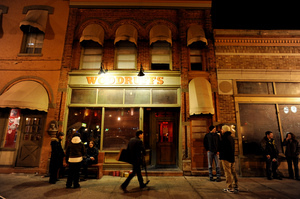 Melanie Maxwell | AnnArbor.com
The lineup for the show includes Bill Edwards, Joel Palmer, Sigrid Christiansen, Dave Boutette, Dan Hazlett, Bob Skon, Jeff Scott, Lisa Pappas, Angela Predhomme, Dave Rossiter (of Hoodang), Jennifer Smith, Mark Jewett and Jamie-Sue Seal. The event will be hosted by "Tree Town Sound"'s Matthew Altruda.
Tickets include a drink ticket, snacks and a silent auction. There are a limited number of $100 VIP tickets available. The VIP tickets include a pre-concert dinner at Frenchie's where local Ann Arbor author Steve Amick will be the featured speaker. After dinner, VIP guests will get preferred seating at the concert.
Tickets can be purchased in person at Literati Bookstore or at Nicola's Books or online from the Binc Foundation at https://co.clickandpledge.com/advanced/default.aspx?wid=66816
Saturday, June 8, 2013. 5 p.m. dinner, 7 p.m. concert. $40 regular. $100 VIP. Woodruff's is located at 36 East Cross St., Ypsilanti.