Posted on
Thu, Jan 10, 2013 : 9:34 a.m.
Help great causes while enjoying great entertainment and strap on your skis this weekend
By Ann Dwyer
FUNDRAISER
Raise money for Chelsea Center for the Arts' Student Scholarship and Tuition Assistance Fund during the "Jazz & Chocolates Scholarship Fundraiser Weekend" at Silver Maples of Chelsea on Friday. 6-8:30 p.m.With a variety of music, delicious desserts and sweet treats, and music-themed raffled items, Jazz and Chocolates has become an annual favorite fundraiser in the community. $10 per person or $25/family. 100 Silver Maples Dr., Chelsea.
OUTDOORS
You've had a chance to do some training, so are you ready for the REI Frosty Freestyle Race and the Third Annual Priority Health "Krazy Klassic" Cross-Country Ski Race at Huron Meadows Metropark? Saturday starting at 9:30 a.m. and Sunday starting at 10:30 a.m. The races are open to anyone, from experienced racers to skiers who want to try their first race. Plus, the park has snow guns, so the the race will go on, snow or shine. Skiers age 16 and older can register in advance for the Frosty Freestyle for $29, or $39 at the race. Kids ages 12-15 can race for $15. Kids under 12 can participate in shorter races for $10 and will receive a custom medal. Skiers can register for the Krazy Klassic at the race for $20. In addition to race fees, a Metroparks vehicle entry permit is required. For more information and to register, go to http://www.nordicskiracer.com/frosty/ or call 248-535-9351. 8765 Hammel Road, Brighton.
FUNDRAISER
Help a great cause at Where The Music Comes From, an EMU voice faculty fundraiser for Food Gatherers at the Kerrytown Concert House on Saturday. 2 p.m. Come hear our area's young singers and help rescue our community from hunger. This is a free event. Donations to Food Gatherers are accepted. All of the proceeds go to Food Gatherers. 415 N. Fourth Ave., Ann Arbor. 734-769-2999.
FASHION
EnspiRED presents the Year in Couture on Saturday in the U-M Biomedical Research Building Auditorium. Pre-reception is at 6 p.m. Show starts at 7 p.m. This look at the year in fashion will be hosted by James "Mr. GQue" Stratford with a performance by MAHD. Premium VIP guests ($25) are invited to a pre-show reception, get a swag box and premium seating. VIP guests ($20) get a swag box and premium seating. General admission is $15. Tickets will NOT be sold at the door. Buy tickets at http://enspiredshop.bigcartel.com/. 109 Zina Pitcher Place, Ann Arbor.
ENTERTAINMENT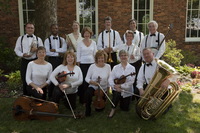 Enjoy an evening of burlesque, vaudeville and music hall with the River Raisin Ragtime Revue: Ragtime Extravaganza at the
Michigan Theater
on Saturday. 8 p.m. Joining R4 will be duo William Bolcom and Joan Morris, internationally renowned ragtime and jazz pianist and composer James Dapogny, Grammy-winner Ian Whitcomb on ukulele and vocals, burlesque dancer Lily LaRue and Erin Morris and the Ragdolls dancing up a storm. $30 general admission and $50 priority seating. 603 E. Liberty St., Ann Arbor. 734-668-8397.